Yes You Can!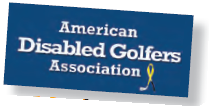 The great American industrialist Henry Ford once said, "Coming together is a beginning. Keeping together is progress. Working together is success."
That was clearly evident during a two-day clinic held at the Windy Hill Sports Complex in Midlothian, Virginia, on April 24-25 of this year. The principals, Windy Hill Sports Complex, Sheltering Arms Rehabilitation Center, and the Stand Up and Play Foundation combined their cooperative skills and enthusiasm to over 20 physically-challenged amputees, paraplegics, and stroke victims, with the overriding message that through the use of adaptive techniques, golf can once again be a leisure activity.
"It's all about accessibility," said Janet Phillips, co-owner of the Windy Hill Sports Complex. The effort really started to come together when Phillips and Alison Clarke, director of community recreational services at Sheltering Arms, joined forces with the Eastern Amputee Association. Together, they reached out to the business community and were successful in obtaining a generous donation from the DuPont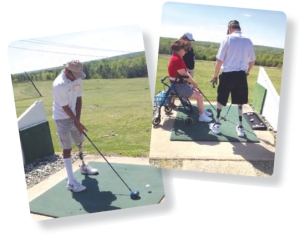 Corporation, which allowed them to pursue the latest technology in adaptive equipment for the physically challenged. They purchased their fi rst (of two) "Paramobiles," a three-wheeled specially-designed wheelchair capable of supporting a wheelchair-bound golfer in a standing position. The chair's designer, Anthony Netto, a USGTF member, is himself a paraplegic as a result of an auto accident in 1994. Netto founded the Stand Up and Play Foundation and has been instrumental in educating all who will listen on the numerous physical and mental benefi ts for the para-golfer.
"They have really done an excellent job of reaching out to the community, not only for monetary support, but to inform the physically challenged as to what is available to add activities to their lives," said Craig Cobine, executive director of Stand Up and Play, about the local effort.
The two-day clinic included adaptations/assistance from a recreational therapist and group instruction by a USGTF or PGA professional. Clinic topics included driving, chipping, putting, and on-course play. One of the highlights of the day was to see Netto use his chair and demonstrate how to drive the ball 300 yards with a very powerful upper body turn.
For more information on the Paramobile or how to go about forming your own local team, please contact Craig Cobine from the Stand Up and Play Foundation at cobine@standupandplay.org.
Editor's note: Bob Fahy is a teaching professional and the assistant golf professional at Windy Hill Sports Complex in Midlothian, Virginia.