USGTF Member News
CARDEA LEADS TEAM TO THIRD STRAIGHT NCAA
USGTF professional Bob Cardea has been the head coach of the Rutgers-Camden men's golf team for the past 21 years, but in the past seven years the program has turned it up a notch. For the fifth time in those seven years – and for the third consecutive year – Rutgers-Camden has qualified for the NCAA Division III Mens' Golf Championship. Cardea said the school making the coaching position a full-time job seven years ago made a huge difference.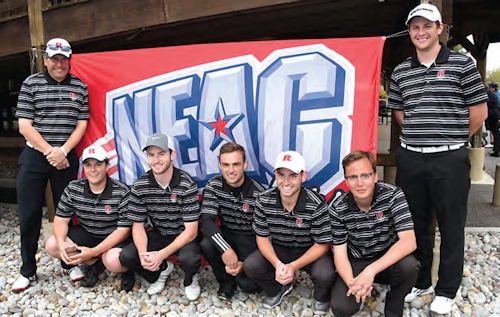 Rutgers-Camden men's golf team
"It allowed me to spend more time recruiting; recruiting is huge," he said. "I've been able to establish an entire program as a result of being named a full-time coach. The bottom line is that I treat it like a legitimate program."
No one could argue that point. Given that there are several hundred schools that play Division III golf and only 41 qualified for this year's championship, to make it into the field even one year is a great accomplishment. To do it as often as Cardea's team has done recently means that Rutgers-Camden is on the verge of becoming a true powerhouse. Rutgers-Camden has also become the top program in the North Eastern Athletic Conference, winning that championship several times.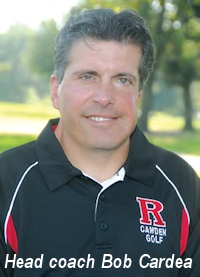 "My goal is to be in the top 15 nationwide," said Cardea. He stated that although next year he only has one returning starter, his incoming players are likely to make a huge impact in 2015-16, meaning Cardea's goal could become a reality sooner rather than later.
"In order to be a legitimate team, you have to have it all," said Cardea. That includes simulators, a golf-specific workout program, and other amenities normally found at larger Division I schools.
Cardea has been able to implement that since attaining full-time status.
When it comes to the USGTF, Cardea is a big supporter. He has three assistants, and encourages them to go through the USGTF program. One of them, Andrew Pierson, competed in the United
States Golf Teachers Cup in 2014 in Nevada.
With Cardea at the helm – and he shows no signs of slowing down – Rutgers-Camden is sure to be a serious force on the national scene for the foreseeable future.
---
SOUTHWEST REGION CHAMPIONS CROWNED
Cole Golden from Wichita, Kansas, and Carlos de Barros from Lake Worth, Florida, were named co-champions of the USGTF Southwest Region Championship after fi nishing tied for fi rst. First  round leader D.B. Merrill from Muskogee, Oklahoma, fi nished third with a score of 155. Rounding out the top fi ve were SW Region director Bruce Sims from Frisco, Texas, in fourth place, and  Jeff Kennedy from Plano, Texas, in fi fth. The event was played at Ridgeview Ranch in Plano.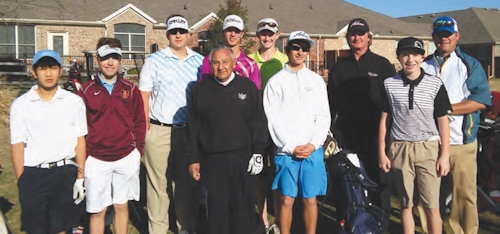 ---
WGCA RELEASES NEW COACHING MANUAL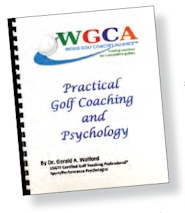 USGTF Professional Dr. Gerald A. Walford has authored the latest instruction material for the World Golf Coaches Alliance, titled Practical Golf Coaching and Psychology. Dr. Walford, a member of the USGTF Advisory Board and Technical Committee, holds a Ph.D. in Sports Psychology from the University of Maryland.
This manual goes beyond the basics of putting together a competitive team and discusses the practical aspects of managing a team, its various personalities, and dealing with many situations that puzzle even the most experienced of coaches. Dr. Walford puts his expertise in sports psychology to good use in also dealing with the mental aspects of coaching.
The manual is now available through the USGTF National Offi ce for $19.95 for a soft-cover edition. To order, please visit the USGTF Pro Shop at www.USGTFProShop.com.
---
NOMINATIONS BEING ACCEPTED FOR HARVEY PENICK TROPHY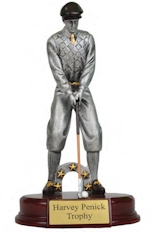 Nominations for the third annual Harvey Penick Trophy For Excellence In Golf Teaching are now being accepted by the USGTF National Offi ce. The trophy is awarded annually to a USGTF member at the closing banquet and awards ceremony at the United States Golf Teachers Cup. The recipient of the trophy is chosen based on service to the golfi ng public, integrity, and golf teaching accomplishments.
USGTF members may nominate any USGTF member in good standing, including themselves. Nomination letters are to be sent to info@usgtf.com by Friday, September 25.
Previous winners are not eligible. The winner will be chosen by the USGTF Technical Committee, whose decision shall be final.
---
MICHIGAN/ONTARIO GOLF TEACHERS TOUR SCHEDULE ANNOUNCED
The Michigan/Ontario Golf Teachers Tour begins its 14th season in May, concluding with the prestigious Kelly Cup in September. The schedule is as follows:
[ezcol_1third]Sunday, May 17
12:00 noon $40*
Devil's Ridge GC / Oxford, MI
Sunday, June 14
12:00 noon $40*
Greenhills G & CC / London, ON[/ezcol_1third] [ezcol_1third]Sunday, July 26
12:00 noon $42*
Verona Hills GC / Bad Axe, MI
Sunday, August 16
12:00 noon $45*
Tarandowah GC / London, ON[/ezcol_1third] [ezcol_1third_end]Sunday, September 13
12:00 noon $125**
KELLY CUP – Day 1
Shepherd's Hollow GC
Monday, September 14
9:00 a.m.
KELLY CUP – Day 2
Shepherd's Hollow GC
Clarkston, MI[/ezcol_1third_end]
* Does not include Optional Prize Money Pool, $50, nor Optional Skins Game, $10.
** Includes golf fees for both days and prize money pool. Teams from both countries determined by 2015 participation and quality of play.
This is a great way to meet and compete with your fellow members. For more information, please contact Michigan Tour director Charlie Henry at clh3@comcast.net, or Ontario Tour director Grant Gulych at grant@ggolfs.com.
---
UPCOMING USGTF REGIONAL EVENTS
NORTHEAST – Region director John Savage has announced the annual USGTF Northeast Region Championship will be held Friday, July 31, at The Architects Golf Club in Phillipsburg, New  Jersey, about a 90-minute driver from both New York City and Philadelphia. The course is unique in that all 18 holes are designed in the style of a different famous architect. Tee assignments will  be based on age, and new for 2015 will be prize money for division winners (under 50, 50-59, 60-69, 70+ and ladies. The entry fee is $150, and the deadline is Thursday, July 16. Make checks  payable to John Savage, 46 Princeton Court, Langhorne, PA 19047. If you have any questions, please contact John at savogolf@gmail.com or (267) 992-4692. The tournament is open to all WGTF members in good standing, regardless of residence.
SOUTHEAST – The 8th annual USGTF Southeast Region Championship will be held Saturday and Sunday, July 25-26, at GlenLakes Country Club in Weeki Wachee, Florida, approximately 45 minutes north of Clearwater. Tee assignments will be based on age. Region director Mike Stevens will conduct the annual region meeting at an area restaurant Saturday evening. The entry fee is $175, and the deadline is Friday, July 17. Entries are taken through the USGTF National Office by phone at (888) 346-3290 or through mail at USGTF, 1295 SE Port St. Lucie Blvd., Port St. Lucie, FL 34952. Entries by credit card will be 3% extra. The tournament is open to all WGTF members in good standing, regardless of residence.
CENTRAL – The USGTF Central Region Championship will be held Monday, August 10, at Lick Creek Golf Course in Pekin, Illinois, just south of Peoria. The entry fee is $100 and includes golf, range balls, skins game, prize pool, and a sandwich and a drink. To register, please contact Central Region director Keith Dunklebarger at keithjdunk@comcast.net. The tournament is open to all WGTF members in good standing, regardless of residence.
---
YONEX SIGNS ON WITH USGTF

YONEX Golf, a company long-known for its industry leading innovation, has signed on with the USGTF as an industry partner. USGTF members will be able to purchase Yonex golf equipment at a personal-use discount of 40% off the wholesale price. Please contact the USGTF national office at 888-346-3290 or email us at info@USGTF.com for pricing and ordering information.
---
A HELPING HAND GOES A LONG WAY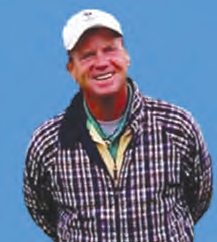 USGTF Master Golf Teaching Professional George Claffey from Berlin, Connecticut, has a passion for giving. He works with The First Tee in five cities in Connecticut, and teaches about 3,000 kids  in the New Haven schools, running their gym classes when it comes to golf.
Claffey's humanitarian efforts extend all the way to the Philippines, where he has helped a young lady get her start in the game. While riding in a popular mode of transportation there, a jeepney, the driver told Claffey that his young daughter, Nina, was interested in golf and wanted to learn the game. Claffey met her that afternoon at a local golf club where he teaches when he's in the Philippines, the Bacolod Golf & Country Club in Negros Occidental, and proceeded to give her some introductory instruction. Later, The First Tee program donated equipment to Nina, and she has become quite a local celebrity, as she is only one of five girls who play golf nationwide in the Philippines.
Claffey closely monitors her progress, and sponsors her instruction with a local pro named Ramon when he is not there. According to Claffey, Nina Onate has some serious talent, and is hopeful that one day she may be able to play the game professionally. As her family is quite poor, it would be a great rags-to-riches story if she were able to make it to the top level of the professional game.