Winter 2013 Member Profiles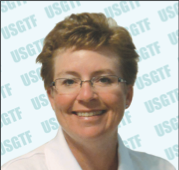 JULIE WAGNER
USGTF Level III Member,Kokomo, Indiana
USGTF Level III member Julie Wagner was certified in 2011 in Greenville, South Carolina.
In a short time since, she has made quite an impact.
Born and raised in Kokomo, Indiana, Wagner has been married to Paul Wagner for the past
18 years. She spent 13 years as a quality engineer for Delphi Automotive and General Motors. After earning USGTF certification, she was hired at Wildcat Creek Golf Course in Kokomo as the teaching pro, and earlier this year was named the head women's golf coach at Indiana Wesleyan University. The program is a startup one, and will compete for the first time in NAIA Division I in 2012-13. In her own words:
"In high school I was a volleyball, track, and softball player and never had interest in golf.
I started playing golf because my husband was playing when we met. I fell in love with the game. I got serious in 2005, setting my sights on winning the county amateur tournament. After several failed tries, I had USGTF Master Professional Gary Focken help coach me. I won two years straight in 2009 and 2010. It was then I realized I wanted to give back to the community and help grow golf.
"My passion is to continue to teach and coach. I am motivated to grow women's golf in the area and was successful in running women's-only clinics and schools last year. It is exciting to be able to work with talented young ladies who strive and share my passion to grow their golf skills and compete at a high level. Any lessons I give I will be donating that money to my golf team budget."
USGTF Level III Member, Hobe Sound, Florida
Bill Kroen is a longtime USGTF member who resides in Stuart, Florida. He is the author
of the national bestselling "The Golf Tip A Day Calendar," which has sold over a million copies. In addition, Kroen is the author of several other national bestsellers including and,
Kroen has a Ph.D. from Boston College and has published over 250 articles in major journals and newspapers on the subject of education and golf. His works have appeared in such journals as Golf Teaching Pro magazine, Parade magazine,and
Kroen joined the Marines and became an officer and platoon commander in Vietnam during 1967-1968. Wounded in battle, Lt. Kroen received the Purple Heart, Navy/Marine Commendation medal with a "V for Valor," the Vietnamese Cross of Gallantry, and the Combat Action Award.
In all, he was awarded seven medals for his service in combat. He has been a golf teaching professional since 1986 and we are proud to have him as a member of the United States Golf Teachers Federation.
Level III member, WGTF of Portugal
Pedro comes to the WGTF with impressive credentials. He has seven years of professional golf
teaching experience in the Portuguese resort region of Algarve. Prior to teaching golf, Pedro played professionally, earning the ranking of 11th Order of Merit in 2006 and 18th Order of Merit in 2005. As an amateur, he played throughout Europe for the Portuguese national team for several years. Pedro is multi-lingual, fluent in Portuguese, English, French and Spanish.
Pedro came to the WGTF of Portugal seeking to earn an internationally-recognized credential that would broaden his employment opportunities in the United States and worldwide. He was also looking to improve his skills as a teacher, and extend his knowledge on the video side of teaching by the use of the V1 PRO System. From Internet lessons, to side-by-side comparisons to the pros, to the ease of applying the graphics, this part of the course proved extremely valuable to Pedro.
Pedro earned not only his WGTF Level III certification, but he got his distance back with
a ball trajectory that was impressive to watch. Pedro's experience with the WGTF of Portugal and the opportunities associated with our larger organization was favorable enough for him to refer
a fellow Portugal PGA professional to enroll in our next certification class.
Yes, Pedro is a professional player of outstanding quality, respect and etiquette and an asset to our fine organization. It was a true pleasure to have had Pedro Lemos as my first student while forming the WGTF of Portugal.