Winter 2013 International News

2012 CANADIAN GOLF TEACHERS CUP RESULTS – September 16 & 17, 2012 Crosswinds Golf & Country Club
Burlington, Ontario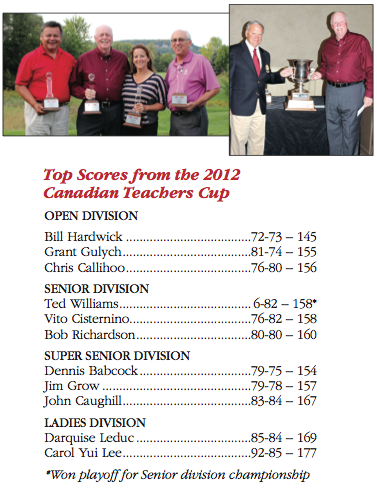 For the first time in Canadian Golf Teachers Cup history, the format changed to where the event's champion had to play in the Open or Ladies division.Previously, the overall winner could come from any of four divisions (Open, Senior, Super Senior, Ladies). This didn't slow down Super Senior-aged Bill Hardwick, as he made the move to the Open division and surprised his younger competition with 72-73 – 145 in taking the championship by an impressive 10 strokes.Crosswinds Golf & Country Club in Burlington, Ontario has hosted three Canadian Golf Teacher Cups in the past and was the site for the 12th annual 2012 Canadian Golf Teachers Cup, played September 16-17. The weather and course were spectacular, as 38 players took part in the four divisions.The first day was survival as only six players shot in the 70s due to the combination of extremely fast greens, windy conditions, and difficult pin positions. Hardwick set the pace with birdies on the first three holes, finish- ing even par for round one and leading past champion Chris Callihoo by four strokes. Meanwhile, in the al- ways competitive Senior division, past Senior champion Ted Williams shot a smooth 76 and took a 3-shot lead into day two over Vito Cisternino, and a 4-shot lead over 2010 overall champion Bob Richardson. The Super Senior division was a dead heat between 2010 champion Dennis Babcock and Jim Grow, both shooting impres- sive 79s. Even with four penalty strokes, past Canadian, U.S., and World Cup Ladies champion Darquise LeDuc took the lead after day one in her division.
The second day was even more competitive than the first, as many players made major moves and found their touch on the greens, with nine players shooting in the 70s. Hardwick's always-steady game made his lead insurmountable, which left the battle for second place. The biggest move was made by Grant Gulych, who started fourth, five shots behind second place Callihoo in the Open division. Gulych's three birdies on the back nine, including making an 18-foot birdie putt on the last hole, allowed him to take second place by one shot with a score of 74.
The Senior division was decided by a playoff be- tween Cisternino and Williams. Cisternino forced the playoff by shooting a solid 79 to Williams' 82, b
ut it was Williams who outlasted Cisternino and took the title on the first playoff hole. The Super Senior division featured Babcock defeating Grow to take the title with a round of 75. LeDuc was successful in defending her Ladies title from 2010.
Next year's event will be held in the Niagara Falls area of Ontario and all WGTF Level III and IV members are welcome to play in this event and in all worldwide WGTF tournaments.

The UK has enjoyed a very patriotic few months with the Royal wedding, the Queen's jubilee and the London Olympics. It's been a truly motivational few months.
The worldwide recession is encouraging us to develop innovative marketing concepts, focus in on niche market opportunities, extend our skill sets, and become even more sophisticated in the ways we deliver extraordinary customer service. The Internet is just one of the many powerful tools we are using to extend our reach into the golfing world. By interviewing world- leading experts like Tim Gallwey and Fred Shoemaker, we have received over 8,000 hits on YouTube, which can only increase the curiosity to discover more about our organisation. I-Pads and i-Phones have made it simple to film and instantly review swings, and technology continues to revolutionize the information we can obtain. This only adds to the work an outstanding golf coach can do to help their client achieve outstanding results, giving us the ability to coach players all over the world, even tour players.
In our own desire to improve the quality of our Level III trainings, we have done much to improve the experience. For some time now, we have been extending the amount of work required to be completed prior to the course. Now, we have added presentations online so golfers can be even better guided on how to produce great material warranting the highest assessment.
We have also noticed a real need to stay in contact with our Level III attendees after the course and now host online get-togethers and further one-to-one support. It is wonderful that in over 10 years of experience with Level III trainings we continue to improve every aspect of the training via the feedback we have received from our attendees, while remaining true to the federations original goals.
2012 EUROPEAN GOLF TEACHERS CUP HELD IN LONDON
London has been the center stage for sport this summer, and autumn deserved to be no different. Selsdon Park to the south of London staged the 2012 European Golf Teachers Cup. WGTF of Great Britain and Ireland president Peter Hudson made sure everything was perfect, and his choice of venue was top quality. The traditional old course in Surrey was a magnificent place to stage such a prestigious event, and it certainly lived up to its reputation as one of London's most testing courses.
The field was a truly international one, and a very special thanks to Edward Verstraten for bringing his Dutch contingent. Geoff Bryant and Mark Harman came all the way from the USA. Spain, Austria, Bulgaria, Croatia, Ireland, Wales, Scotland were represented, and of course a few of us Englishmen also turned up for the event with high hopes and the ambition to meet fellow teaching professionals and enjoy and learn.
Most of the field arrived Wednesday morning to play in the fun blind-drawn doubles, which turned out to be great fun and a perfect way to get to know the golf course in a relaxed way, mostly because it did not matter what you scored. At the end of the day when the draw
was completed, Noel Eastwell and Brian Smith became the winners, both scoring well on a difficult undulating course with the wind and rain playing its part as you would expect from UK autumnal weather. Autumn in England brings its own challenges, and this year was no different as the wet weather of 2012 continued, thankfully mostly during the hours of darkness.
The two days of competition for the Cup ended with a sensational finish. Jon Jones from Great Britain and Ireland led after day one, but lost on count back to Harman, maybe a little revenge for the Ryder Cup. The pair tied on 2-over par for the 36 holes, with Harman at level par on day two and Jones dropping four shots after his previous 2-under par score.
GB&I are getting closer to having a WGTF champion, and Eastwell from Spain did win the Seniors trophy with fierce competition from one of our own, Brian Smith. Smith pulled all square after 32 holes, but Eastwell edged ahead again with a birdie on hole 33, and then getting up and down on the last hole to win by two shots. Other winners were Bryant, who won the Super Seniors, and Mai Ling Oei in the Ladies section.
Amateur golfers had their place in the field and were made very welcome by all at Selsden Park. These players were either guests of Federation members or members who have kept their amateur status alive. Frank Stevens was the very proud winner. Robert McEvoy claimed the GB&I Champions status for the second year running. This is a truly magnificent performance, as we have at least five players competing regularly on various professional tours.
The prize-giving was held in the magnificent Sir Edward Heath room at Selsden Park Hotel. Pictures of the 1970 British cabinet, including great names such as Margaret Thatcher and Sir Alex Douglas Hume, hung from the walls, a good example of the heritage surrounding us during our stay at historical Selsden Park.

The WGTF of Austria is focused on teaching all aspects of golf instruction during our certification courses. Being golf specific is a major goal for this education; this implies a special
focus on the biomechanical features of golf. Biomechanics seem to enable future teachers to better understand the core features of a golf swing.
Every human being is unique, and hence teachers have to treat every client individually, including the range of motion and the load- bearing capacity of the joints. Teaching should therefore be based on general physical concepts which affect every movement in the same way.
Dr. Christian Haid is teaching physics and applied biomechanics within the framework of "Healthy Swing." This program is especially designed for all members of the WGTF of Austria, and should provide the essential information as regards to the biomechanical basics for golf teaching professionals. Consequently, we are strongly convinced that teaching golf can be elevated to an even higher standard.

KENYA JOINS WGTF AS NEWEST MEMBER
The World Golf Teachers Federation welcomes the country of Kenya as the newest member of the WGTF. USGTF Level III professional Anokh Jai will serve as the president of the Kenya Golf Teachers Federation.
Kenya has 40 golf courses, of which 13 are championship 18-hole courses. The country features a temperate climate well-suited for year-round golf. There are a mix of old and new courses, from the Royal Nairobi Golf Club founded in 1906 to the Vipingo Baobab Golf Club, built in 2009. Muthaiga Golf Club hosts the Kenya Open, which is part of the European Challenge Tour schedule.
Certification courses are slated to begin in 2013. Again, we welcome Kenya into the WGTF family, and look forward to a mutually beneficial association for years to come.

The third annual China Golf Teachers Cup was held at the site of the upcoming 2013 World Golf Teachers Cup at Qingpu Sun Island Golf Club in Shanghai. Despite rainy conditions in the days prior to the event, a turnout of 80 competitors teed it up in the one-day event held June 27. Gary Yu shot an even-par 72 to claim the men's championship, while Mary Cao won the ladies' championship with an 80.

The event was held as a "dry run" for the 2013 World Golf Teachers Cup, and logistically the event ran smoothly overall. The Chinese Golf Teachers Federation looks forward to a strong turnout next year for both events, and welcomes all WGTF participants from around the world.

Recently, the MGTF has been active giving certification to our club professionals in the Santa Margarita and Leon golf clubs in the Bajio region in
Mexico. We had the opportunity to give these new MGTF members their Level III certification cards and diplomas, since all of them passed their exams, including the PAT.
These new members were recognized by their club directors because of their effort and commitment towards teaching, and preserving the methods and ethics of the USGTF, which we in the MGTF make aware to any new member. We believe that in fulfilling these principles lies the very foundation of a successful and respectful golf teaching relationship with our customers.
We congratulate our new members Sivestre Mena, Cesar Aguilar, Rosendo Rodriguez, and Andres Razo for becoming part of this great worldwide organization. The MGTF is now leaping into new ventures to increase knowledge and use of the best golf teaching method: That of the USGTF in the Riviera Maya region in the south of the country. We will keep you informed on the advance of this ambitious objective.

With the London Olympics still fresh in our minds, we naturally look forward to the Rio Olympics of 2016 and the return of golf to the games after a century hiatus. But, instead of offering a crowning lifetime achievement opportunity of "Olympic proportions" to amateurs from the widest spectrum of countries around the globe, it will be just another major in an already busy schedule for many of the top professional golfers on the PGA and European tours. While the Olympics have included professional athletes to varying degrees for quite some time, it is up to the governing entities of
each sport to define its selection criteria, which, in the case of re-introducing golf in 2016, has effectively excluded amateurs.
The 60-player Olympic field of golf competitors each for men and women is proposed to be drawn from the top of the World Rankings, with the top 15 automatically qualifying, then continuing down the rankings with a limit of two players from any one country (or four, including those in the top 15), until the remaining 45 positions are filled. Extrapolating from the Official World Golf Rankings as of July 29, 2012, About.com forecasted that Ricardo Santos would have been the lone Portuguese competitor had golf been included in the 2012 Olympics. Similarly, countries such as Colombia and Fiji would also have had just one competitor each, the already world-famous, top-earning, product-endorsing Camilo Villegas and Vijay Singh, respectively.
Successful Portuguese golfers will inspire the development of more golf talent in Portugal, regardless of whether or not they are at the top of the professional world ranking. With this interest in mind, the WGTF of Portugal applauds and recognizes Ricardo Melo Gouveia and Pedro Figueiredo, two Portuguese amateurs, who presently rank #78 and #36 respectively on the World Amateur Rankings as published by ScratchPlayers.org. Both have enviable golf resumes, have been accomplished players on the Portuguese National Team and now on their college teams (University of Central Florida and UCLA, respectively), and both recently competed in the 112th U.S. Amateur held in Colorado. Melo Gouveia made the cut, finishing 1-under, and Figueiredo finished 6-over.
Without the Olympics to aspire to, the U.S. Amateur continues to be one of the most elite championships in amateur golf with its opportunity a for recognition. But, does it create celebrity status to the extent that an Olympic appearance would? With the right exposure, top amateur athletes like our "Richy" and "Figgy," both 21, have the charisma and talent to inspire the youth of Portugal, just as their counterparts from so many other countries do. The Olympics are the very tool needed to provide the fame that can turn top amateurs into golf heroes, and result in an explosion of momentum and endorsements to youth golf internationally. The irony is that advertisers need already-famous athletes to attract sufficient viewers to watch Olympic golf.
The WGTF of Portugal is proud to spotlight Richy and Figgy to the national and international audience of Golf Teaching Pro magazine. By giving exposure to the accomplishments of our fellow countrymen, we can contribute to the momentum of youth golf in our homelands.

NURTURING THE GAME
Japan is blessed with the most golf courses in the world after the United States, with some 2,400 18-holes or more tracks. Perfect, you might think, but gaining access to these clubs for juniors is a daunting task. Most clubs are set up to cater to their memberships that are often comprised of corporate clients or people looking to use their memberships for entertaining clients and friends. It just hasn't been a very kid-friendly environment. This situation just can't continue if Japan wants to create the next generation of golfers.
The post 3/11 earthquake and nuclear issue, along with the earlier Lehman shock, has most clubs on the ropes, so to speak, with many now looking for potential new areas of growth. This economic reality has created a bit of a race to the bottom on green fees that is actually helping improve access for juniors. Most clubs now also offer junior rates, and are beginning to target families with father/son packages on certain days. However, with juniors still representing less than one percent of the golfing population here when compared to the USA, Australia, Canada, and parts of Europe where the numbers range from 6 to 8.5 percent, Japan still has a long way to go.
On a positive front, professional golfers here are, and have always been, treated like gods! So, when young superstar golfers like Ryo Ishikawa and Ai Miyazato do beat the odds and make it, there is no shortage of media attention, and this does trickle down to the youth. A modern Japanese child has huge amounts of things already taxing their time such as cram schools (a school kids go to after school to continue studying), and more traditional afterschool school clubs like judo, baseball, swimming, kendo, etc. After-school golf programs and junior golf groups with access or passes at local nearby clubs don't exist! This is an area where desperate improvement is needed. Creating a junior golfing culture in an already culture-rich country is the task at hand faced by the industry.
There are some getting involved. U.S. Kids Golf Japan, who are a relative newcomer here, are taking up the challenge with a recently released bilingual version of their American three-booklet teaching program. This program, once it catches on, will also allow students to access their over 30 yearly junior tournaments here in Japan, as well as qualify for international events. Instructors who are able to create junior programs are, in essence, painting on a new canvas, but with tried-and-true programs like this, this task will be a bit easier! USGTF-Japan members are well-positioned to do just that, and with new teaching methods and a firm grasp of the current technologies available, we are leading the break from the old guard here in Japan. There is a long way still to go, but for those of us setting the ground work for more participation in the game, the opportunity to do what we love and make a difference in so many lives continues to be the calling of a lifetime!
For more information on golf in Japan please see www.golf-in-japan.com. For junior information, check out the U.S. Kids Golf Japan website at www.uskgj.com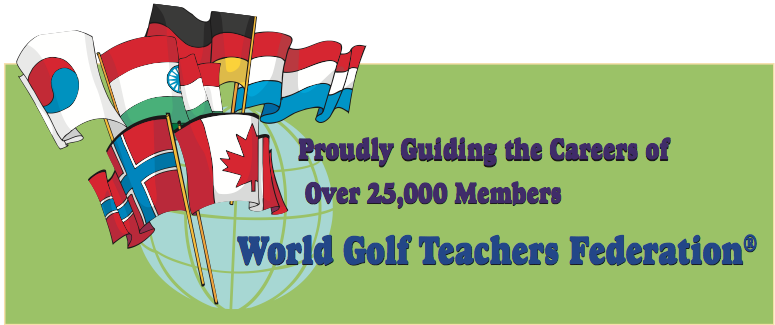 The Dutch Golf Teachers Federation has conducted a Level III training class for the fourth time at Labrie at Crecy la Chapelle Golf Club. With a small group, it was a very instructive nine days. The director of the club, Joost Mouris, was, as usual, a wonderful host. We strive to maintain a maximum of six to nine students in each training session.
In addition, we are proud to announce our new office in the center of the Netherlands: DGTF education centre Horatiuslaan 3 3584 AX Utrecht. At this location, we have a studio and fitting center to train our future DGTF/WGTF members, and give them maximum value in our education program. At this facility, we have the capability to employ programs like the V1, GASP, C-Swing, and using i-Pads. Thanks to all of our members who make this possible.

In the southern parts of Australia, we have just witnessed a very wet winter period. This has meant limited access to golf courses, and, in some
cases, the closure of the courses. In fact, the last few months in Australia have seen a lot of rain, and this has adversely affected teaching opportunities for our members. So, it is always good news when a member gets the opportunity to take a position which is well sought-after in the industry.
Recently, one of our members, Kevin O'Neill, accepted the offer from the director of golf at RACV Torquay (in Victoria) to provide a range of golfing services to the members of that club. RACV is the Royal Automobile Club of Victoria, and in recent years has ventured into the golf industry and purchased golf courses in different parts of Victoria. RACV promotes their courses to its members, and there is good publicity for the golf professionals associated with the golf courses run by RACV.
Viewed in this light, it is worth noting that Kevin was approached by the club after he had run successful afternoon and evening putting clinics at the club. RACV Torquay was particularly interested in a wide range of golfing services being offered to its members. Kevin will be maintaining his specialist putting programs and adding short-game instruction, full-swing development, course management and member practice sessions, as well as working with the representative teams of Torquay Golf Club. Kevin, as you would well imagine, is tremendously excited to be working there.
Kevin is a Master Golf Teaching Professional with the World Golf Teachers Federation, and is a full-time specialist putting coach in Australia. He is an active member of the Australian Golf Teachers Federation and an instructor for our Level III courses. Kevin has a reputation for innovative teaching practices, coupled with a passion for best-learning practices. He is constantly researching the latest developments in skill acquisition, and is currently studying golf biomechanics.
Not bad for a 65-year-old who had a heart attack last year, forcing him to make substantial adjustments to his lifestyle and take time out of the work force!

The first USGTF-Korea Presidents Cup tournament was held at the Royal Golf Country Club, located in Chung-Buk Chungju. The federation representatives for this USGTF-Korea tournament funded the purse of 30,000,000 Won (roughly $26,450.82 USD) in prizes.
USGTF-Korea members enjoy the benefits of playing together. The friendships made, the golf knowledge shared, and the theories discussed make this truly one of the most amazing experiences for any golf enthusiast. USGTF-Korea expects to hold more tournaments in 2012 to help expand on the great personal connections made by previous ones, as USGTF-Korea expects the high-level players interacting with one another to be a priceless experience for many.
During the USGTF-Korea Presidents Cup golf tournament, heavy rain poured, causing delays waiting for the greens to dry out. Even during these extreme conditions, the atmosphere among the players remained calm and pleasant, and the tournament was able to conclude with great success. The tournament's two front-runners of 144 total players, Choongsoo Kim and Mingi Ji, played even par. They went on to sudden death on the ninth hole of the course. Kim landed a second shot on the green and went on to sink the put to win the tournament. He was awarded with 5,000,000 Won ($4,408.78 USD), the tournament trophy, and a jacket inscribed with his name.
The second USGTF-Korea Presidents Cup was held on July 23 at the Royal Forest Country Club. This winner, with a score of 71, was Seung-Yong Lee.
On four occasions this past year, USGTF-Korea members were invited to play an invitational, where the members enjoyed the benefits of camaraderie and extremely reduced green fees. Members were encouraged to take advantage of this time to network amongst each other.

"Teaching golf beyond the borders" is our motivation, our inspiration. We are the WGTF of Italy and South Tyrol, which is located at the north end of Italy, close to Austria.
Italy is a country at the Mediterranean Sea in the south of Europe, which is known worldwide for its natural foods of pizza and spaghetti, the good wine and fish, gelati (ice cream), and the history of the Romans. It's the country where the Pope comes from, has the metropolis of the famous fashion shows in Milan, and so much more.
My name is Matthias Rödel, and I'm a Master of Sports Science and a sports coach. I have studied at the University of Mainz/ Germany, and have been successful in the sector of training athletes since 1989, preparing them for the Olympics and World Championships.
I've also been the national trainer for powerlifting, and trained athletes in other sports like baseball, tennis, soccer, track and field, horse jumping, volleyball, and golf.
Our new golf teacher education program in the WGTF of Italy and South Tyrol should integrate the main parameters of sport science into golf. Since my first contact with this sport, I had the feeling that the system for teaching golf is not yet complete. Up to the present, this system is a conglomeration of different conceptions without having connected the important element of the science of sports.
Especially, the interaction between the teaching of movements and knowing the interior function of the human being is completely unknown, and that's why worldwide golfers have so much trouble with their games. This is what I am going to do as my function as a golf coach: Consider the interaction between training of technical skills and the inner state of the human being.
And, as we start our Project Teaching Beyond The Borders, we want to cooperate with all member nations to bring the WGTF to the state-of-the-art in golf teaching for better instruction. We start the education inside, beyond the border of swing planes and levels.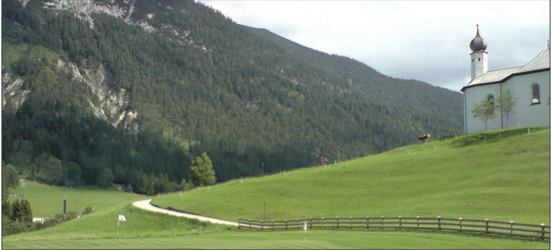 By knowing the anatomy of humans and having knowledge about the movements of the joints, the teacher understands which movements are possible and which not, specified by the natural function of the muscle chains. So, the golfer can give up his belief at special swing systems determined by "swing gurus." He himself will recognize which swing system is the right one.
This education will be completed with special "in the zone" training, because it is best to swing with an empty mind and without emotions. In addition, the teacher also learns about nutrition, biomechanics, self- marketing, clubfitting, and more. By using the new learning and teaching technologies in cooperation with universities, we feel this is the best way to go.
We are looking forward to having good and very intensive communications with all our partners, presidents and federations.