WGTF Members From Around The World
PUERTO RICO • ANDRES SUBIRA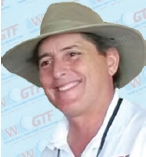 I am a husband and father of three beautiful children. I have lived and worked in Puerto Rico for most of my life. I am currently the director of instruction at Rio Bayamon Golf Course and a Level IV Master Teaching Professional with the USGTF. I am also a USGTF certifi ed examiner, a master club maker and club fitter.
Aside from offering private individual and group lessons, I also write a series of articles for Golf and Tourism magazine. I appear in a television program called "Puro Golf" as a featured golf guru. I run the Future Champions Golf Tour for junior golfers with a colleague (www.fcgt.org). We hold monthly events throughout the island. I participate in a municipally-sponsored program for disadvantaged and disabled kids, free of charge, which provides weekly clinics throughout the year.
I am passionate about my career. Even though I spend more time at the golf course than at home, I tell my clients I no longer work. I dedicate my time to doing something that I love… I TEACH GOLF.
NETHERLANDS • ELS VAN HOECKEL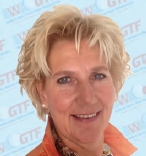 I am a Dutch golf professional, and I have been teaching, or more appropriately, coaching people in several sports since I was 16. I got the golfi ng bug in 2002, but at that time, I didn't have a coach who made me feel like playing like a happy, free kid with a twinkle in my eyes – and that's the way I coach people!
As a result, I attended the WGTF education program in the Netherlands in 2006 with Thomas T Wartelle, Edward Verstraten, and Leo van Bennekom, and now I have been a very happy and independent professional since 2007. I think it is very important to invest in yourself and keep on learning and developing your mental and technical aspects by attending seminars, playing in competitions, reading books, and engaging in experiences by yourself!
I do this because I want to know how to fi t better with my clients and affect them in a positive way, so they can learn and let free what is inside – the natural movement suited to that person with the right information – so that they say, "Aha,  that's what you mean!" I want to keep it simple, natural, and fi tted in a way they feel, see, understand and trust! This will give them a consistent moment of impact.  (Editor's note: van Hoeckel works at Seve Golfcenter in Rotterdam and BurgGolf Middelburg in Middelburg.)
GREAT BRITAIN • TONY HAND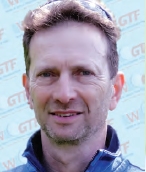 Tony Hand coaches in a purpose-built golf studio at the Parley Golf Centre near Bournemouth. He's been playing since the age of 11, and still loves this great game with a passion. Hand spent 30+ years in the corporate world, but wanted to  semi-retire and give something back to golf. The WGTF Level III program gave him the perfect platform to begin coaching. Four years on and he has a thriving business, coaching four half-days per week (20 hours), and enjoying the rest of the time keeping fi t, playing golf, and spending time with his wife Peggy. Hand said, "I feel like I'm living the dream."
He coaches using two cameras and C-Swing golf software. "The cameras really help students see themselves, and most importantly their progress, which boosts confi dence and understanding," said Hand.
CHINA • PAULINE JI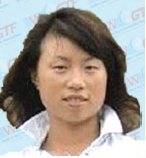 Chinese professional Pauline Ji was born in 1987 and started working as a caddie in 2007. She was selected by the resident pro to be trained as his assistant a few months later. Ji knew that hard work would pay off, and she practiced and played most days from sunrise to sunset.
However, three years in, her game reached a plateau and she was unable to improve any further. To enhance her skills and to learn a systematic teaching method, she attended the USGTF-China Level III training class in 2010. At that time, she was playing with a two-plane swing, which was beautiful and gave her great distance, but it was inconsistent, especially with accuracy. USGTF-China taught her the one-plane swing and strongly recommended that she change her swing to this method, as they believed this would be better for her.
It took her almost a year of work on the new swing, but it paid off. She obtained her tour card on the China LPGA Tour in 2011. While she has yet to win on the CLPGA Tour, she has won a few other events and has numerous top-5 fi nishes.
In 2013, she started her own teaching program called "Pauline Golf," focusing on teaching kids and youth. She is doing great in both the teaching business and on the pro tour. Ji always says, "I have the USGTF to thank for my successful career."
VIETNAM • ABDUL WAHEED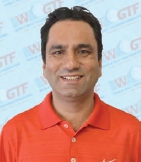 When you think of Pakistan or Vietnam, you don't necessarily think of golf, but USGTF member Abdul Waheed is setting out to change that. Waheed attended the USGTF certification course in Port St. Lucie, Florida, this past November 17-21.
Originally from Islamabad, Pakistan, Waheed was teaching golf there when he became aware of an opportunity in Vietnam, courtesy of one of his students who spent some time in the southeast Asian country. Waheed was making plans to move to Cyprus to teach, but when he heard about the position in Vietnam, he explored it further, decided to take it, and has never looked back. He currently has 800 students as the director of instruction at the Camela Golf Academy in  Haiphong, Vietnam.
Waheed's brother-in-law, Shabbir Iqbal, is Pakistan's #1 player, and is coached by Waheed's uncle, Shaktar Ali. Iqbal represented Pakistan in the 2009 World Cup of Golf in China. Continuing with the family theme, Waheed came to the U.S. to get certified at the urging of his son, a promising golfer in his own right in Vietnam. Waheed has been in Vietnam for four years now, and has no plans to leave anytime soon. Golf in Vietnam has been growing the past few years and will continue to do so, leaving Waheed with a promising future.
MEXICO • DANIELLA PERALTA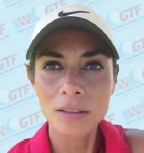 The Mexican Golf Teachers Federation has been active in certifying future golf teachers. It is very signifi cant that women are becoming more and more involved in teaching golf in Mexico, and Daniella Peralta is a perfect example of this.
Peralta has successfully passed the USGTF exams for certification. She will be teaching golf at the El Paraiso Golf Club in Cuernavaca. The MGTF would like to wish her the best of luck.
In addition to Peralta, several other participants were certified at this particular certification course. The MGTF would like to thank the WGTF and the USGTF for their support and cooperation.
KOREA • SEOK-HUN KIM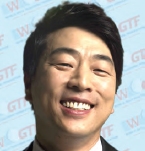 Seok-Hun Kim was exposed to golf in high school. However, due to family difficulties, he joined the army after graduating. Upon completing military service, he started playing golf again.
In 2000, Kim became a USGTF-Korea Certified Golf Teaching Professional. The next year, he served as vice chairman and was on the tournament committee. By 2002, he became a Master Teaching Professional. Since 2004, he has been an active member of USGTF-Korea's tour and education committees. At the end of 2007, he started teaching the curriculum for the second of the three rounds of examinations.
Beginning in 2007, he started lecturing as an adjunct professor in Social Sports Golf at Seoul University and became a representative for TG Golf Academy. In 2013, he acquired a Master's degree in Physical Education at Yongin University Graduate School.
CANADA • MURRAY ST. ONGE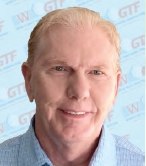 Murray St. Onge has been a CGTF member since 1997. He is the head teaching professional at Tangle Creek Golf and Country Club in Thornton, Ontario, and also at the Barrie Sports Dome in Barrie, Ontario, during the off-season.
St. Onge is regarded as one of the best teaching pros in Canada. He has taught LPGA Tour player Stephanie Sherlock since she was 13 years old. St. Onge also has had over 50 of his students receive golf scholarships in the last 12 years. He also has had a few of his students play on the Canadian Tour. Both of his children, Mark and Julie, played Division I golf at Charleston Southern University.
St. Onge is one of the WGTF's top 100 teachers. He plays to a 0 handicap and enjoys playing with members of his club. St. Onge loves the opportunity to see his students improve, especially the ones who are are willing to put the practice time in order to change for the better.
TANZANIA • NAZEER TAJUDEEN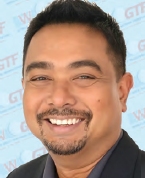 Nazeer Tajudeen graduated as a creative graphic designer and pursued a career in the advertising industry for 25 years, gaining exposure in multiple areas like sales, marketing, productions, and management. An active member in good standing with the United States Golf Teachers Federation and the World Golf Teachers Federation since 2004, he was appointed as the president for the TZGTF (Tanzania Golf Teachers Federation) by the WGTF in 2013 to develop more coaches in that country.
He is also involved in golf course design, construction, and management projects. In 2006, he built his own driving range and training center. He was able to train people from various multicultural backgrounds and statuses. In 2007, he designed and built a budget golf course in Tanzania, Lugalo Golf Course, for the local community. Currently, he represents the All-Africa Golf Construction Company for the East African region to develop new golf courses, driving ranges, and landscaping-related services. Its website is www.AllafricaGolf.co.za.
Tajudeen is currently  working on the redesign and reconstruction of the current Kigali Golf Course to meet international standards. He is also a consultant for the "Eagle on the Lake Golf Estates" project, which aims at attracting investors and developing a golf course in the same region to establish the ultimate tourist destination in East Africa. This future project is located at the shores of Lake Muhazi, 40 kilometers from Kigali City.
Tajudeen is a dynamic, inventive, and driven entrepreneur with never-ending ideas for change, with an insatiable appetite for new knowledge.
JAPAN • YOSHIHIKO UMEZAKI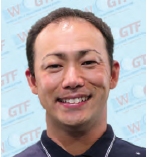 "Why am I smiling in my picture?" asks USGTF-Japan professional Yoshihiko Umezaki. "Because I was certifi ed as a Master Teaching Professional today!" he exclaimed on the day of his success. Umezaki's story is one of perseverance,  because it wasn't the fi rst time he had tried to gain qualifi cation as a Master Teaching Professional.
"Here in Japan, the Level IV course is held just once a year," he explains. "I failed the playing ability test three consecutive years. And yesterday and today, I smashed the PAT with a 76 and a 73. And I passed the demonstration, writing, and  thesis examinations. Finally, I made it."
Umezaki and his father run a 27-bay, 300-yard driving range in Japan, and he is one of the more popular teaching professionals in the area.
THAILAND • NATTHANON LERKKUMSUP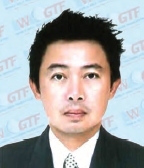 Natthanon Lerkkumsup joined the USGTF in 2009 and has been the director of USGTF-Thailand since 2011. USGTF-Thailand is located at the Top Class Driving Range in Bangkok. Since then, Lerkkumsup has gained a lot of experience in training both amateur and tour players.
In 2014, he contributed to the creation of a new golf technique called "Swing Activation Technique." This is a popular technique amongst golfers. It allows golfers to learn and understand their golf swings in a much more simple way, and has
also allowed them to gain greater power and consistency in their swings.
USGTF-Thailand also holds golf clinics for junior golfers and their parents (amateurs and professionals) at no cost, which helps promote USGTF-Thailand. This project is called "I Love my Swing."
UNITED STATES • MIKE SIDLINGER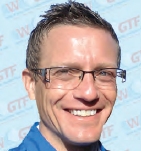 I am a Level IV Master Teaching Professional, having worked in golf for 21 years. I'm fortunate that growing up, two of my best friends' parents owned a great course called Byron Hills in Port Byron, Illinois. I played on the Riverdale High School golf team, where we became the fi rst team in almost 20 years to qualify for the IHSA state golf tournament. During my four years, I won the Most Improved Golfer award as freshman, and was co-captain of the team.
During the winter of 1998-99, I took a trip to Las Vegas, and there I paid a visit to the Callaway Golf Center (now a TaylorMade facility). While hitting range balls at the two-tiered lighted range with a nine-hole par-3 course, I was approached by one of the managers about a possible job. I took the position and never looked back. Within two weeks I became the supervisor of the par-3 course and driving range. Over the next year, I also became a salesman and club fi tter in the golf shop at the Callaway center.
At the age of 23, three years after obtaining my USGTF certification, I had been getting to teach a lot at the Callaway center and was starting to have some success as a player in the Las Vegas area and all over the southwest. Because of this success, I was approached by a world-class poker player about being his personal golf instructor/caddie. Was an incredible experience! Later, my friend Ray Nomura and I decided to take a trip to Arizona for the Level IV Master certifi cation course…Master instructor at the age of 24.
So here I am at 34 years old! Some 8,000-10,000 golf lessons, 1,500-plus club fittings, over 2,000 loops (caddie jobs), and 63 wins as a player, and still loving the game more and more every day. Recently, I made a move to Bandon, Oregon, with my beautiful future wife Alisha Moreno to fi nally make some roots and work at the number one golf resort in America, Bandon Dunes Golf Resort. Life and golf just keep getting better.