We Are Pleased To Accept Your Entry We Are Accept Your Entry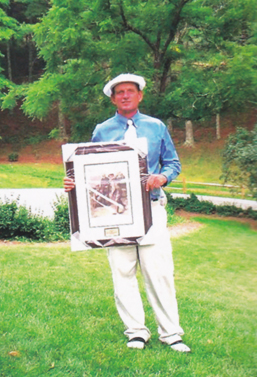 I was walking off the 18th green of the Craigielaw Golf Club in Aberlady, Scotland, when the voice called out. "Excuse me, Mr. Stevens, Edinburgh radio would like to interview you and Mr. Gallacher about tomorrow's tournament." "Mr. Gallacher, as in Bernard Gallacher," I said. "Why yes," came the reply. Then, there I was, standing next to the former Ryder Cup captain and Lionel Freedman, the tournament director, answering questions about the next day's World Hickory Open. The radio station was keen to know the American Hickory champion's thoughts on old time golf and what was the appeal of striking "80 year old" implements.
I have been around golf pretty much my entire life. The game has enriched me and brought me to places I would otherwise have never been. But, nothing has enhanced my enjoyment of golf or put me in touch with more noted golf people than playing with 19th century equipment. I've hobnobbed at the residence of Sir William Campbell, chatted with Sam Snead, made acquaintance with several USGA executives, and now here I was, standing side by side with a Ryder Cupper who was interested in my life and what I had to say. We had dinner together that night and discussed many things golf and, well, not golf.
Two years ago, I began playing with hickory shafted clubs exclusively. Banished to the garage was my 460 cc titanium driver and frequency matched graphite shafted irons. I have no regrets. Golf has never been more enjoyable. Now, here I was at the pinnacle event outside Edinburgh – the World Hickory Open. The WHO is the brainchild of Mr. Lionel Freedman, who started it as a tribute to the way golf began and should not be forgotten. The first tournament was played at the Old Links in Musselburgh, site of six British Opens and the oldest continuously played course in the world. It was played on by Mary Queen of Scots and home to several great Open champions. I had the pleasure of playing it with some lads from the local academy, one appropriately named Angus.
The rules for the WHO were pretty simple. We could use five clubs which had to be authentic pre-1930 model, and for those devoid of their own set, Homer "Hickory" Smith was on hand to supply clubs from his vast collection. From my own collection I chose a Robert Forgan driver, McGregor mid-iron and mashie, a hand forged William Gibson niblick, and a Wright & Ditson gooseneck putter. I picked a Titleist So Lo ball from the list approved by the Scottish PGA. I should mention that the organization enthusiastically supported and conducted the tournament in a first class manner. When asked for support, Peter Lloyd, the head of the Scottish PGA, said it was something not only they should do but were compelled to do.
Craigielaw Golf Club is a new Donald Steele design, but it seems like it has been there for a century. Only the modern clubhouse gives any indication of its newness. I arrived for a practice round and was greeted warmly by the clubhouse and pro shop staff, and told that a fellow countryman was there and that we might hook up. We exchanged pleasantries and George Peper and I headed off to the first tee. I asked him how long he had been playing hickories, to which he replied that this was his initiation. He was there to do a story for Links Magazine, but got sequestered to enter the tournament by Lionel. Oblivious, I played the first three holes before it hit me. "Are you George Pepper, the writer and former editor of Golf Magazine?" "That would be me," replied George as he pull-hooked a drive into some nasty tall grass. His prowess with hickories was a little less than desirable at first, but he started to get the feel as we played on. It turned out that George would be one of my partners in the Pro-Am, along with noted golf historian David Hamilton and defending champion Mike Stewart. We finished a respectable 5th, but more importantly I had added three great new friends to the many I have collected over the years because of this wonderful game of ours.
The next day at 11:10 AM the announcement came, "On the tee, from the Bay Palms Golf Course, the American Hickory Champion – Mike Stevens." I promptly ripped a drive that ran and ran and ran right into a pot bunker just a few yards off the fairway. I blasted out and then ran a mid iron up the slope and rolled in a 10 foot putt for par. As my hero, Walter Hagen would say, three mediocre shots and one great one equal par. On the fourth hole with a chance for birdie, I ran my 20 footer about 4 feet past. Then it got weird. As I stood over my putt a jet from the nearby Royal Air base comes zooming about 20 feet over my head. Talk about a major yip. In spite of that I made the turn in 38 and started out the back nine with three pars. On thirteen a difficult par four, I played a good shot to the only spot on the green I could get to by avoiding a deep bunker guarding the flag. It left me about 60 feet down two grades. Three putts later I was steaming. With it still on my mind I drove into a hazard on the next hole that lead to double bogey. To make things worse a bad kick off the next tee put me against a stone  wall and another bogey later I was deflated. Hey it could have been worse, it could have been raining. Which is exactly what it started to do. We played the last two holes in a mild downpour where I proceeded to miss a tap in for par and a four footer for birdie, turning a respectable 78 and 17th into an 80 and 30th place. Oh well, even Hagen struggled in his first Open. Just wait until the next open.
Although disappointed, I have to say that it was one of the best trips I have ever been on, especially since my wife and daughter were able to accompany me. Reflecting on the trip, I am reminded often of a specific moment during the pre tournament dinner of a speech given by a Scottish professor from Oxford University. To paraphrase he said that if you took away all of the contributions that Scotland gave to the world in science, mathematics, art and literature, and her only gift was the game of golf, we Scots could hold our heads high for introducing to the world an honorable game, a civilizing game and a game that instills decency in all of us. Well said my friend, well said.
Mike Stevens is a member of the USGTF and golf pro at MacDill Air Force Base in Tampa, Florida. He is the 2005 National Hickory Champion and the 2004 US Golf Teachers Senior Champion. He also owns and operates the Guaranteed Golf School in Tampa and Sarasota. For more information on Hickory Golf go to www.hickorygolf.com.