Trinidad & Tobago's Golf Future Looks Bright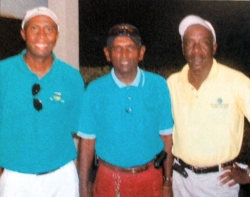 When most people think of Trinidad & Tobago in golf terms, they think mainly of Stephen Ames, the successful touring professional from that country. After Team Caribbean's victory in the World Golf Teachers Cup, and with what several USGTF members are doing with junior golf, it might not be long before Trinidad & Tobago are known for a slew of outstanding golfers.

Anthony Benny, Ricky Campbell, and World Golf Teachers Cup individual champion Christopher Richards all hail from the island nation just off the coast of Venezuela. All three had a hand in helping Team Caribbean to its first championship, along with Curacao's Herbert Con, Puerto Rico's Miguel Suarez, and St. Lucia's Tim Mangal.
Recently,USGTF president Geoff Bryant, national course director Mark Harman, membership services' Robert Kleabir, and USGTF professional Charlie Whitney visited the island of Trinidad, where they met up with Benny, Campbell, and Richards. Perhaps more so in Trinidad than in other countries, juniors are definitely the future of the sport.
"Golf is perceived as an elitist sport here," said Campbell, "and we are trying hard to break that barrier. Our junior programs are developing slowly but surely, and there is a bright future for junior golf in Trinidad."
After a round of golf with his American counterparts, Benny conducted one of his junior clinics at St.Andrews Golf Club,where he is the head teaching professional.Several dozen kids came out to receive instruction from Benny,who was also formerly the coach of Trinidad's national junior team.This past year, the junior team emerged victorious in the Caribbean Junior Amateur Golf Championships, held in Antigua.
Richards also is heavily involved with juniors, as he serves with the Trinidad & Tobago Golf Association's junior development program.When he is not acting in that capacity,he can be found teaching at Chaguaramas Golf Club. Richards' game has also taken an upward swing the last two years, with his strong play in the US and World Golf Teachers Cups.
"I would say that the USGTF certification course took four strokes off my game," remarked Richards. As for winning the individual world championship of the WGTF, he said,"It feels fantastic." Prior to becoming a professional, Richards also had some success as an amateur, winning several prestigious titles in the 1980's.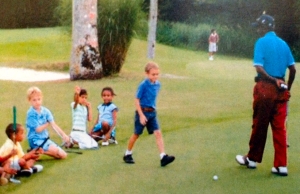 Campbell is the head teaching professional at Millennium Lakes Golf & Country Club, a fine championship course located near the largest mall in the Caribbean. He gives a minimum of six lessons per day, and his story is a testament to what USGTF certification, combined with a desire to succeed, can produce.
Campbell moved to Trinidad from Tobago four years ago, and golf wasn't "even on the agenda," according to Campbell. But, he started giving lessons for free at Queen's Park in Savanah in Port of Spain, where he ran into Benny, who urged him to get certified. Upon his return from the US, Campbell, with the help of Ashraph Ali,president of the Trinidad & Tobago Golf Association, landed the position he currently holds at Millennium Lakes.During one of their visits with Campbell,the Americans witnessed over 100…yes, 100…people attending one of Campbell's free night clinics. Needless to say, the turnout was very impressive.
Benny is perhaps the most ardent proponent of junior golf in Trinidad. He makes it a point of emphasis to teach kids and to give his time whenever he can.He is also an advocate for the USGTF, and was instrumental in getting the various pros in Trinidad certified with our organization. Shortly after the visit of Bryant, Harman, Kleabir and Whitney, USGTF national coordinator Bob Wyatt traveled to Trinidad to conduct the first USGTF certification course held in that country.
While Trinidad & Tobago may not be perceived as a golf powerhouse in terms of the number of tour players, it can be called exactly that in terms of the quality of its USGTF teaching professionals.