This Happened In Vegas…But It Didn't Stay There
Does anyone recognize these young guys? This picture was taken at the awards banquet in November 2002 for the 2003 United States Golf Teachers Cup (yes, that is not a typo…see below). All of these gentlemen, 12 years later, are still regular participants in the US Cup. From left: Jerry Moore, Ron Longoria, Mark Harman, Dave Belling,  Mike Stevens, and Jim Perez.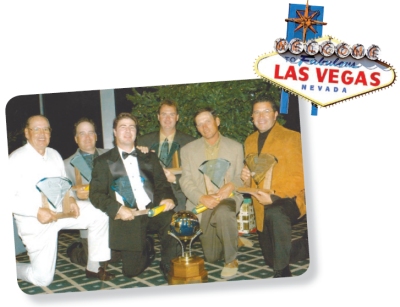 If you're wondering why the 2003 US Cup was played in 2002, the culprit is none other than national course director Mark Harman. In January 2001 the US Cup was
played at Eagle Marsh Golf Course in Jensen Beach, Florida, as part of that year's World Golf Teachers Cup week. He later organized another US Cup later that fall at The  Moors near Pensacola, Florida, as his idea was to move the US Cup permanently to the fall. Of course, the problem was obvious: two US Cups in one year. The problem was "solved" when the November 2001 edition at The Moors was called the 2002 United States Golf Teachers Cup. So, the next year, the 2003 US Cup was played in November 2002.
When the World Golf Teachers Cup was played in November 2003 in Orlando, no US Cup was held, so starting in 2004 at Carter Plantation in Louisiana, the US Cup
again was played in the year in which it was named. And that, folks, is part of the interesting history of the United States Golf Teachers Cup.