The Rule Of Four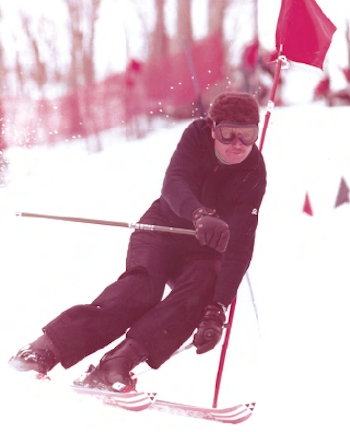 As I write this, we are in mid to late fall in western Canada. The time of year matters more than the weather. The long weekend of the first week of September seems to signal the end of summer, whether the weather is good or bad. The golf courses have their shutdown schedules and away they go. Two weeks ago, our greens were punched.
My golf buddies and I meet every Monday, rain or shine, for our weekly round of golf and fun and games. We have a good time as we do not take ourselves seriously, nor our games. We do keep score, change partners every week, play for money  no one ever collects, and do try to beat the other  team. We have a tradition of having a nip of scotch to celebrate every birdie. We do this on the following tee box. The person scoring the birdie has to pour the drinks. We each have a shot glass and receive about eight drops. We raise our glasses, look each other in the eye and chant, "Birdie, birdie, birdie." We call this "birdie juice" or "swing oil." Sadly, our small flasks of birdie juice usually last us two years!
We do have fun, though, and laugh a lot.
As we arrived on the first green two weeks ago and realized we would be faced with serious putting challenges, we decided on a new format. Once on the green, we would record an automatic two-putt unless the first putt went in for a one. As this was very liberal (some of the greens are huge and a person could be just on the green and putting from 80 feet away, usually a sure three-putt for us), we decided, what the hell, let's tee off from the back tees! Now, the back (black) tees make the course 900 yards longer than the white tees we usually use. We thought we would really be in for it, but as it turned out, one or more out of the four of us made a par and there were even a few birdies (there were a lot of "others" as well). We had fun and more than a few laughs.
Last weekend was the last day we would golf together this year. The greens had not grown in much from the previous week, so we decided to once again exercise an option. We decided to tee off from the white tees and would use a best-ball format. After each shot, we would all take our next shots from whosever ball was best positioned. We were well versed in the "Rule of Four," as we had researched this concept all summer. Our Rule of Four stated that out of the four of us, one would do something different than the others with each shot. If there were three good shots, chances were the fourth would be bad, and if there were three bad shots, chances were there would be one good shot. We ended up with a score of six-under par and will be patting ourselves on the back all winter! As a bonus, we were almost alone on the golf course with a fairway open in front of us and one behind. We played the 7,000-yard course in three and a half hours.
As mentioned above, we had FUN the last two golf days. We wondered aloud why there were not more people on the golf course and why the resort was not trying to sell what we were experiencing. We came to a few conclusions:
1) Most golf rounds in the summer tourist season last five hours, making golf only possible by setting aside the whole day.
The public are subjected to viewing golf from coverage on TV and watching the pros playing only stroke-play formats on long courses.
There are very few options available for golfing less than 18 holes, unless you live at or near a golf course or golf resort and can go out late in the day and sign up for nine holes or less.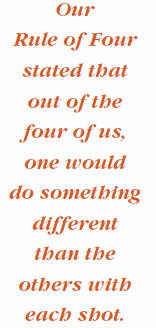 Your president Geoff Bryant and I were teaching skiing in Vermont in the 1970s. Killington Ski Resort had a marketing guru and a progressive ski school director. They came up with a concept called GLM (Graduated Length Method). New  skiers would start on 20 cm skis that were very maneuverable, and in a very short time and on specially designed trails, the new skiers were skiing from the top of the mountain. Instant gratification! They were then put on longer skis that afforded better performance at higher speeds, and the skiers were introduced to more challenging terrain. Other ski areas followed suit, and the industry in North America introduced thousands of new skiers into the market. The demographics
were just right at that time for this to happen. The baby boomers were just coming of age and they had their families underway, had good-paying jobs, and skiing was a relatively inexpensive way for family recreation. These new skiers were the drivers behind the real estate booms in places like Vail, Mt. Snow, Copper Mountain, Killington, Whistler, etc. Sadly, these skiers are now older and are not skiing as often, or not at all, and are selling their ski condos and moving in to walled-in senior citizens complexes. The ski industry and the golf industry are faced with the same challenges, those of rising costs of participating and sharply declining participants.
Here is the challenge to the young up-and-comers in the USGTF and related world family of members: The golf industry needs some new and innovative Big Ideas. If you want to stay in the industry for some time, the industry really needs some Big Idea people to find a GLM-type of program that gets new people into the sport easily and inexpensively. As an example, driving ranges that are able to add one fairway with tee box options and would make the fairway usable as a par-3, a  par-4 and a par- \5. Another would be a three-hole golf course with three tee box options at each teeing ground so a person could experience a nine-hole golf course, and executive course options at major golf resorts with shorter fairways, good-sized greens, easy-toputt greens and eight-inch holes, etc.
Out of every four ideas, there may be one really good one that works for you. On the other hand, out of the next four ideas, there may be three that work for you.
Time to get cracking!