THE PART-TIME Teaching Professional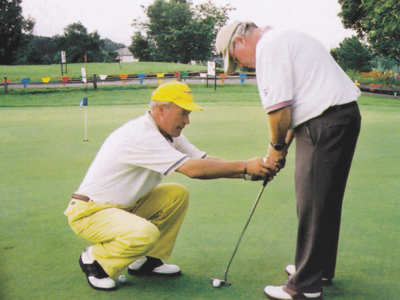 In an age where economics changes faster than runway models, it's no wonder more and more people are getting prepared to jump ship when "the writing is on the wall" in their chosen professions. Because of today's financial and job place instability, it has become necessary – and smart – for many people to get alternative training or add a second part-time career to make ends meet. Or, for many people a part-time job is necessary to cover lost investments or fill up time during retirement. Most USGTF Professionals end up teaching full-time, but some are finding out that teaching the game on a less than full-time basis is also an option. Enter the part-time pro: a career choice that is gaining momentum for the first time ever in the history of golf, since the advent of the USGTF.
The popularity and sheer number of people entering – or existing – in a part-time golf teaching role speaks volumes about both the current trends within the work force and a sport that obviously lends itself well to part-time employment.
Of course, in many regions there is no other option but to take on a part-time position. Basically anyone living in the northern half of the continent is up against a tough opponent in Mother Nature. For as long as the game has been played, Mother Nature has always won the battle when winter rears its head.
"Half the year I'm a golf pro and the other half I'm a computer tech," cites Darren Gallagher, a teaching pro at a club in Calgary, Alberta. His driving range is open for a mere six months per year, forcing the four instructors who work there to seek employment elsewhere when the snow starts flying. "There aren't too many full-time, year-round positions out there for golf instructors – especially up here. Having a second career is the only way I can afford the pizza and beer."
In nearly every region, the most popular time of day to teach is late afternoon and early evening, opening up numerous opportunities in the morning and early afternoon hours. "I used to play golf almost every morning," says James Kirby, a Senior Instructor at a course in Puerto Vallarta, Mexico and a four-year member of the USGTF. "But now, with a young family, I need to spend more time looking at ways to pay the bills. If the teaching isn't there, well, I've got to look at other options. Plus, doing a few other things unrelated to golf helps me stay keen and fresh as an instructor. I think teaching part-time is actually a great way to do it," finishes Kirby.
Glen Bayne, a full-time computer graphics consultant and part-time teaching professional also takes advantage of the public's demand for after-work instruction. "At four o'clock I'm usually a free man, which means I can head over to the driving range and get in a couple hours of teaching before I call it quits for the day. From four to six almost everyone is available for instruction. So, for anyone who works normal working hours, a second job as a golf instructor can work pretty well."
Fortunately, for many teaching professionals, they have noticed that even with a downturn in the economy, people are still taking golf lessons. "My teaching revenue has actually increased," says Dave Brunette, an instructor in British Columbia, Canada. "I've thought about the reason for this and have concluded that even when the economy is sluggish, people want to hold on to what makes them feel good." An interesting observation for people entering the teaching industry.
In fact, teaching golf has often been tagged "The Profession of a Lifetime" appropriately named perhaps for the above reason. Many are entering the golf instruction biz on a part-time basis because their current non-golf related careers just aren't cutting it…for whatever reason.
Jamie Nelson, an employee in the hospitality business, is one such person. "I've always had a passion for golf," says the 38-year old two-handicapper. "When I started to lose hours at the hotel, I immediately decided to pursue part-time employment at a local driving range. I'll be joining the USGTF within the year and it seems to be the perfect way to supplement my other career, which doesn't look too promising right now. Plus, this is a great way to get more involved in the game I love."
Perhaps the greatest increase in part-time instructors is found within the over 50 group. With many of the baby-boomers well into retirement – and nursing the wounds from a war-torn market place – a common trend seems to revolve around making back a few greenbacks that have been lost in weathered and weary portfolios. "My wife and I are doing much better than a few others I know," says Timothy McKewan, a teaching professional who recently went back to work on a part-time basis. "I don't think many people expected the kind of losses that we're seeing in most of the markets. Of course, the losses have brought more than just golf pros back into the work force."
Regardless of the unique dynamics that you face in your work place, chances are a first, second, or third career as a part-time golf teaching professional might just be a viable option for you. Or, it might be the only option. Thankfully, life as a part-time teaching professional can be every bit as rewarding – and you can still make time to knock down flags in the morning!