The Last Ball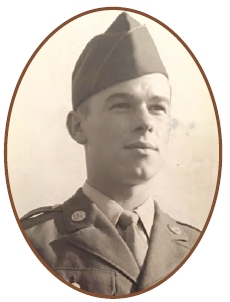 An old friend of mine died the other day. Let me tell you about him.
His name was Glenn Smith, known to all as "Pappy." However, for some reason I always referred to him as Glenn. I guess I just got into that habit.
I first met him in the fall of 1989, about a year after I moved to Tallahassee, Florida, with my wife, Coyne. (Yes, that's her real first name. I credit her parents with starting the trend of naming girls after surnames; it was her mom's  maiden name.) He was the "commissioner" of the daily Seminole (Golf Course) Scramble. Seminole was owned by Florida State University and offered a decent place to play for a great price. When I was first approached by his son Kent, who was the director of golf at the time, to play in the Scramble, I told Kent I wasn't that fond of playing in a scramble every day. Kent told me that in Tallahassee, a Scramble wasn't a scramble; a Scramble was a daily money game involving A-B-C-D teams. He also told me that in Tallahassee, a scramble as you or I would know it was (and still is) known as Select-a-Shot.
For months, I didn't play in the Scramble, instead preferring to play with people I got paired up with. But a friend of mine who was visiting for a few days liked to play for money, and when he found out about the Scramble, he talked me into signing up with him. It was at this first Scramble that I met Glenn.
At the time, he was 65 years old and still playing from the back tees. He could shoot regularly in the 70s, but that wasn't what stood out about his golf game. If you watched him play, you'd swear you were watching a carbon copy of Moe Norman. Glenn stood with a wide stance, his legs straight, and he reached for the ball with a 10-finger grip – just like Moe. And like Moe, he swung on a single plane and was straight – very straight.
Glenn was known to all as the straightest hitter at Seminole, and I soon saw that this was true. He never strayed from the fairway more than once or twice in a round, and if he missed a green, he wasn't far from it.
Every day of the Scramble, he would collect the sign-up sheet and make up the teams. The Seminole Scramble had that typical crazy cast of characters that most money games have, and anywhere from 8 to 30 people would play, averaging around 12-16. It always started promptly at 12:30 every afternoon from Monday through Friday. The running joke was that Glenn always found his way  into the best teams on paper each day, which of course wasn't true. Still, when local PGA Tour players Kenny Knox and Ben Bates would sign up for the Scramble during their off-weeks, Glenn had a mysterious way of somehow more often than not winding up on their teams.
At the end of each round, Glenn meticulously recorded everyone's score on a sheet of paper lined in a grid, writing down each player's score and the number of birdies made. He used this record
to make up the teams for the next day's play.
As the days turned into weeks, the weeks into months and the months into years, I got to become very good friends with Glenn. In fact, we were such good friends that he used my discarded lob wedge that I gave him. I say "discarded" and "gave him" in the loosest sense. That club met its fate a frustrating month after I acquired it and could never get the hang of it. I finally got fed up after one too many bad shots with it, snapped it over my knee (no, I shouldn't have done that, but there are a lot of things I'm sure we've all done when we were much younger that we regret), and put it  into the 17th-hole trash can at Seminole after flubbing yet another shot with it on 16. Glenn asked me if I was really throwing it away, and I said yes, I can't hit the @#$%& thing. (I didn't really cuss during this incident, but that's what I was thinking.) He fished the clubhead and the attached broken shaft from the trash can, and a few days later he proudly displayed its resurrection in the form of a new shaft and grip.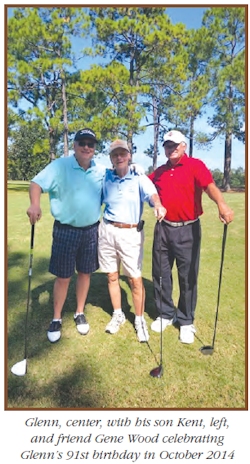 He used that club for the rest of his life.
Glenn was one of the kindest gentlemen I have ever known, and I honestly cannot recall him ever giving a negative opinion of anyone, although he wasn't shy in telling people how it was. As a fellow native Hoosier, we had a lot in common, and I learned a lot about him. When it came to golf, I learned that he had been a terrific golfer in his younger years, once shooting a legitimate 59 on a regulation course. He wound up with 14 holes-in-one during his golf career. As he got older, he began to shoot his age with regularity, undoubtedly several hundred times. By 1994, the Seminole
Scramble had lost a few people over the years to the natural attrition of people moving away or finding other courses or other groups in which to play, but it really seemed to lose momentum late  that year when one of our Scramble stalwarts, George Herrell, passed away unexpectedly of a heart attack. All of a sudden, the Seminole Scramble was no more.
I was still able to find a game each afternoon that I wasn't working, as there were always two or three guys who would come out to play. Other former Scramblers would come out occasionally with their friends in a foursome, but Glenn seemed to have been left out in the cold. I will never forget him, one afternoon, teeing off with two college kids he didn't know. I remember feeling very sad seeing this, and a pang of guilt hit me as I felt I should not let my friend down like that, that I should be playing with him instead of in a money game later that afternoon.
Then, a remarkable thing happened: the Scramble re-emerged in 1996 after a two-year hiatus. Although it was now played only on Mondays, it seemed like old times. Guys who left to form their own groups eagerly signed up for the new Scramble, and it regularly drew 20 or more players. Glenn was back in his old role as commissioner, making up the teams each day and drawing the usual fl ack for how he selected them. While it was back to the new status quo from Tuesday through Friday, I really looked forward to Mondays. When my wife and I moved away to Pensacola in 1997,  once or twice a month I would make the 2½-hour drive back to Tallahassee to play with my old friends.
Unfortunately in 1999, Florida State University awarded the contract to run Seminole to a management group, and the new management didn't see fi t to let people play for a greatly reduced rate to play in the Scramble, as did the old management. The Scramble broke up for good that year.
Although I was in Pensacola, I traveled frequently through Tallahassee during my trips for the USGTF classes in Kissimmee, Naples, and Port St. Lucie, in addition to coming to the USGTF National Office to work. I would stop in often and see Glenn, and occasionally we would still tee it up. By now, he had found a group of guys near his age to play with, and he was once again in his element, competing with friends and putting a few bucks on the line each time.
I last saw him in the summer of 2014 at Seminole, and he was the fi rst tee starter that day. He was 90 years old and in great health. He walked with the gait of a much younger man, his mind still sharp and his game still able to get him around the course in under 80 strokes, albeit from the forward tees, but still a great accomplishment.
I learned he died the modern way, through Facebook, and it got me to thinking: At some point in all of our lives, we will hit our last golf ball. Will we know it at the time? Will we even suspect? When we realize we have hit our last golf ball and the fi nality of it sinks in, will we be sad? Or will we be glad, grateful for the game that has given us some of the best memories and friends that we will ever know?
Someday you and I will know the answers to those questions. Until then, when I think back on my friend Glenn, my sadness for his passing is far exceeded by the happiness I feel that not only did I get to know him, but I got to call him my friend. Rest in peace, Pappy.