The History of Women in Golf

When a discussion turns to who is the best player of all time, or the best putter, or the best ballstriker, etc., inevitably only men are given consideration. However, women have made great contributions to golf, in both the playing and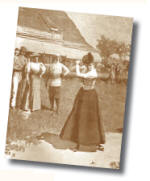 teaching realms as well.
The most famous woman golfer of early times was Mary, Queen of Scots. Some say she was the first avid female golfer in history, but this, of course, will never be known for sure. What is known about Mary is that she played golf not too long after the murder of her husband, Lord Darnly, which brought her great criticism from those who thought she did not observe a long enough mourning period.
The first documented tournament for women was held in 1810 in Mussleburgh, Scotland. First prize consisted of a "creek and a skull" – a fish basket with handkerchiefs – a far cry from today's monetary purses.
British women began forming their own golf clubs in the 1860's, and as more women desired to play in competition, representatives from several women's clubs met in London in 1893 and formed the Ladies Golf Union (LGU). The LGU remains o this day the encompassing body for women's amateur golf in Great Britain and Ireland.
Later in 1893, the first Ladies' British Amateur Championship, a match play event, was held at Royal Lytham & St. Annes, and was won by Lady Margaret Scott, who defeated Issette Pearson, the first LGU secretary, by a score of 7-and-6.
Scott was the first great competitive female golfer, as she also won the championship the following two years. She won a tournament at Cheltenham in 1892 playing against men, and she shot a 70 to win a tournament in Bath against the fellows. What was remarkable about her round is that she played from the men's tees, using the primitive equipment of hickory-shafted clubs and gutta percha golf balls. Thankfully, for both her male and female competition, she married a Swiss gentleman and moved away, never again competing in Britain. However, she did manage to win three Swiss Open championships.
Women's golf in the United States began taking hold at about the same time. In 1894 the first women's club was formed at the Morris County Golf Club in New Jersey. They competed that year in a 7-hole tournament where the first prize was a $1,000 Tiffany & Company silver cup.
Although the USGA recognizes Mrs. Charles (Lucy Barnes) Brown as the first US Women's Amateur champion in 1895, the USGA did not organize that event, instead taking it over in 1896. The Brooklyn Daily Eagle Almanac in 1900 mentions the "Fifth annual championship of the United States Golf Association, held at Shinnecock Hills Golf Club," which would mean the first organized by the USGA would have been in 1896. Also, an article in a 1908 edition of the New York Times states how a married woman had yet to win the title "…since the United States Golf Association assumed control of these championships in 1896."
The first American female superstar in golf was Beatrix Hoyt, who won three consecutive women's amateur titles from 1896-98. Calling her a "woman" was not entirely accurate, as she won her first title at the age of 16 after taking up the game only two years prior. She failed to win the championship in 1899 and 1900 and promptly retired from the game at the ripe old age of 19.

Margaret and Harriot Curtis were the next prominent American players, with Margaret winning two US Amateur titles and Harriot one. In a scene similar to the present-day battles of the Williams sisters in tennis, Venus and Serena, Margaret defeated defending champion Harriot 7-and-6 in the title match in 1907. The Curtis name lives on in golf today, as the sisters donated the Curtis Cup in 1932 for a biennial competition between women amateurs from the United States and Great Britain/Ireland.
America's Alexa Stirling came on the scene in 1916, winning the US Amateur that year. Born in Atlanta in 1897, she was a frequent golfing companion of Bobby Jones at East Lake Country Club. She also won titles in 1919 and 1920, and was runner-up three times after that.
Still considered today by many the greatest British woman golfer of all time, Joyce Wethered was born in 1901 in Surry, England. She won five English Ladies' Championships and four British Women's Amateurs in the 1920's. Bobby Jones played an exhibition with her at St. Andrews, and afterwards remarked, "I anyone, man or woman, amateur or professional, who made me feel so utterly outclassed."
Wethered is responsible for what is perhaps the most famous concentration story in golf history. When she won her first English Championship in 1920, she holed a putt on the 17th hole to win while a train roared nearby. When asked later how she was able to concentrate with the train making such a commotion, she replied, "What train?"
At about the same time, Glenna Collett was making waves in the United States, winning the fi rst of her six US Amateurs in 1922, along with numerous other prominent titles. Collett was later known as Glenna Collett Vare after her marriage in 1931 to Edward Vare.
Wethered, however, got the better of Collett Vare all three times they played. Wethered defeated Collett Vare in the 1925 British Amateur, in 1929 at the same championship at St. Andrews, and again in 1932 in the inaugural Curtis Cup. In 1953, the LPGA established the Vare Trophy for the lowest scoring average for the season.
It wasn't for several more years that new stars would emerge in the women's game, the most notable being Mildred "Babe" Didrikson. Already one of America's most prominent athletes, having won two gold medals and a silver in the 1932 Olympic Games in Los Angeles, Didrikson won the US Amateur in 1946. The following year, she became the first American to win the British Women's Amateur.
When it came to professional golf, women in the United States had very little until 1944, when Hope Seignious, Betty Hicks and Ellen Griffin founded and incorporated the Women's Professional Golf Association. For various reasons, it struggled and folded in 1949. In 1950, with the legendary Fred Corcoran as promoter, the LPGA was officially chartered with 13 founders. Some of these names are among the most famous and revered in women's golf history, such as Zaharias, Patty Berg, Louise Suggs, and Alice and Marlene Bauer. Berg holds the record to this day for major victories on the LPGA Tour with 15. These pioneers did virtually everything for the tournaments, including promotion, marking the courses, and writing the checks.
Mickey Wright was the next dominant professional golfer, winning 82 times in her illustrious career. Ben Hogan once remarked that she had the best golf swing he had ever seen. Kathy Whitworth was a contemporary of Wright's, and her 88 victories is more than anyone, man or woman, at the major professional level.
Although the interim featured star players such as JoAnn Carner, Carol Mann, and Jane Blalock, the LPGA got a tremendous boost in 1978 when its version of Arnold Palmer burst onto the scene. Nancy Lopez, then a 21-year-old rookie, won five consecutive events in her rookie season, on the way to nine victories overall and Player of the Year honors. She was by far the most popular female player for the next two decades, winning 48 tournaments in her career. Undoubtedly, she would have won many more if not for her main priority – her family and raising her three daughters with her husband, former baseball player Ray Knight.
As the 21st century dawned, Annika Sorenstam from Sweden became the most prominent player in the women's game. Known for Hogan-like ballstriking precision, Sorenstam became the first woman since Zaharias to tee it up in a PGA Tour event when she competed in the 2003 Colonial in Fort Worth. Although she struck the ball well enough to be in contention, a balky putter caused her to miss the cut by four strokes. She retired after the 2008 season, with many considering her the greatest female player of all time.
Today, the LPGA is struggling due to the loss of many tournament sponsors and the questionable leadership of commissioner Carolyn Bivens, who was forced to resign in the summer of 2009. Although the LPGA today has many bright young American stars, most notably Paula Creamer, Morgan Pressel, Natalie Gulbis, and Michelle Wie, the women's game in America has lost popularity among sponsors and fans. Some attribute this to the economy, others to the influx of foreign players, but whatever the case, it's clear the LPGA has lost its luster from years past. Perhaps with new leadership and a different vision, the LPGA Tour can regain its footing in the American sports psyche.

When it comes to teaching, the LPGA created its Teaching & Club Professional Division in 1959. This is notable because the LPGA became the first golf professionals' organization to require teaching education of its membership. In total, the LPGA is the third-largest organization of golf professionals in the United States, behind the USGTF and PGA, with approximately 1,300 members.
Speaking of the USGTF, a pioneering concept of the organization was to not only certify those who wanted to teach full-time, but part-time, as well. Other professional organizations require their members to be employed full-time, but the USGTF recognized that this model would not be a fit for everyone who wanted to teach golf. Many women have taken advantage of the USGTF's allowance of part-time teachers.
Several women have gained great recognition as WGTF Top 60 Teachers – Lynn Kildaw, Jen Wilkinson, Trish Beucher, and Shirley Barrow. Each was selected for their tremendous contributions to teaching the game and for their outstanding personal reputations.
As more women gain USGTF certification, their influence in teaching the game will undoubtedly increase. This is due to the fact that some women golfers feel intimidated by taking lessons from a male teacher, and they feel more at ease with a female mentor.
More women teachers will also mean more girls taking up the game, which is important to the future of golf. As golf continues to grow worldwide, women, as both teachers and players, will play an important role in this growth.