The Complete Teaching Professional
(Editor's note: The following was first printed in the Fall 1997 edition of American Golf Pro, which is now Golf Teaching Pro magazine. This article is fitting, given that the USGTF's annual teaching award is named the Harvey Penick Trophy for Excellence in Golf Teaching.)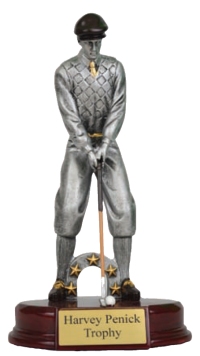 Harvey Penick gained the adoration of millions through the instructional tips and genial philosophy he imparted in his golf lessons over a lifetime, and most recently in his series of popular books.
From his position as head professional at Austin Country Club in Texas, Mr. Penick for seven decades tirelessly made better golfers out of countless beginners, as well as many famous touring professionals. He became a head pro at the age of 18, after caddying for 10 years, and eventually laid claim to having "seen more golf shots than any man alive," adding with tongue in cheek, "most of them my own." He is regarded as one of America's finest teaching professionals ever, and indeed was the first American teaching pro to achieve national recognition who was not a native of Scotland.
Mr. Penick was revered as a father figure by virtually all who came to know him, and was known for treating people equally, regardless of who they were, what their backgrounds were, or how well they played the game. As a golf teaching professional, he was famed for successfully adapting his teaching approach to each individual's abilities and needs. He often said that he enjoyed working with famous golf professionals, but the real thrill in teaching was to see a beginner get the ball airborne for the first time.
An accomplished player, Mr. Penick in his youth regularly matched skills on the course with friends, including Byron Nelson, Ben Hogan, and Jimmy Demaret. But, he preferred teaching, and the simple approach to golf that he conveyed to his pupils invariably improved their games and permitted them to enjoy the sport to its fullest.
He coached the University of Texas golf team for 33 years, leading his young players to 20 Southwest Conference championships. Along the way, he developed an impressive list of students, including former US Open champion Tom Kite, two-time Masters champion Ben Crenshaw, and four of the 13 members of the Ladies Professional Golf Association Hall of Fame: Kathy Whitworth, Betsy Rawls, Mickey Wright, and Betty Jameson. Many other successful men and women playing pros received instruction from Mr. Penick through the years, including Don and Rik Massengale, Tommy Aaron, and former US Women's Open champion Sandra Palmer. One of his most prized pupils, UT graduate Morris Williams Jr., beat numerous famous golfers as an amateur and was destined for greatness on the tour, when his life was cut short by a plane crash at the age of 23 in 1953. An Austin municipal golf course today bears Williams' name.
Penick was inducted into the Texas Sports Hall of Fame, the University of Texas Hall of Fame, the Texas Golf Hall of Fame, and the Austin High School Hall of Fame. One of the top collegiate golf tournaments in America, the Morris Williams Invitational, is hosted by the University of Texas men's team each year in honor of Penick's fallen player.
Mr. Penick assumed the position of pro emeritus at Austin Country Club in 1971, and remained very active in teaching and course management. Even in his later years, he still visited the course regularly and gave occasional lessons up to within a few weeks of his death. On one such visit in 1991, he and author Bud Shrake, a club member, developed the idea of publishing a book containing some of the teaching notes that Mr. Penick had been compiling in a little red notebook since the 1920s.
The resulting Harvey Penick's Little Red Book, published in 1992, has sold well over a million copies to become the largest-selling sports-related book of all time. The book's unique format includes playing and practice tips, many relating to the mental aspects of the game, with engaging and illustrative anecdotes from throughout Mr. Penick's teaching career, arranged in a series of short chapters. It is appreciated as much for the neighborly philosophy it imparts as it is for its uncomplicated approach to the sport of golf.
Mr. Penick and Shrake followed up the Little Red Book with And If You Play Golf, You're My Friend (the "Little Green Book," 1993) and For All Who Love The Game, a collection of tips and stories for women golfers released in 1995.
In addition to his writings, Mr. Penick remained active in his later years through an affiliation with Golfsmith International Inc. Working closely with the company's staff, he was a consultant to the Harvey Penick Golf Academy.
Mr. Penick fulfilled another lifelong dream in 1994 by working with Golfsmith on the design and introduction of the Harvey Penick line of golf clubheads, shafts, and grips. The Penick equipment line ranks among Golfsmith's most successful products ever.
Mr. Penick died in his Austin home on April 2, 1995. He was 90.
His widow, Helen, whom he married in 1925, is a good friend and regular visitor to Golfsmith. His son, Tinsley, succeeded Harvey as the head pro at Austin Country Club and has since retired from that position. There is no other way to describe Tinsley other than his father's son. Mr. Penick's daughter, Kathryn Lee Powell, resided with her family in Levelland, Texas.
(Editor's note: Helen Penick died in December 2006 at the age of 101.)