Smith Named First Recipent of Harvey Penick Trophy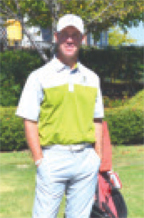 When USGTF professional Matt Smith speaks, he does so eloquently and with a passion that's hard not to notice. What makes this all the more remarkable is that Smith has all but overcome a lifetime of stuttering, something he is more than willing to make known. For his passion for teaching and improving not only his students' golf games, but also their lives, and for conquering obstacles that others may have let defeat them, Smith has been named the inaugural winner of the Harvey Penick Trophy for Teaching Excellence.
Upon receiving the Trophy at the United States Golf Teachers Cup banquet, Smithremarked how the award was much more important than the Open division championship trophy he claimed earlier in the day. He stressed how important it was to not only impart mechanical advice, but to also get out on the course and play with your students.
He also mentioned that guiding students with encouragement is great, but the most important aspect to teaching is caring. Smith regularly texts his students and shows his concern in many other ways.
Janie Moller is one of Smith's students, and her family remarked, "Matt has been able to allow our daughter to realize what we already knew about her, that she is a wonderful and talented young lady, with an amazing golf swing. This we owe, in no small part, to Matt."
Dr. Brian Hamburg stated, "He is very committed to his students, whether it's the high school kids that he coaches or someone like myself, a 19-handicap just looking to break 90."
Smith teaches at the Pinnacle Golf Club in Grove, Ohio, and is the director of the Pinnacle Golf Academy.