Postcards from the Past Postcards from the Past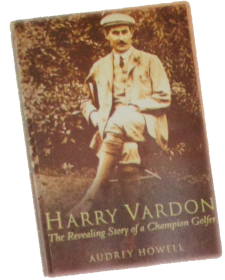 Harry Vardon was the first global superstar of golf. His record of six British Open victories has not yet been surpassed (Tiger will need three more to equal). He was the first British golfer ever to win the US Open. Like all great sportsmen, Vardon combined seemingly effortless superiority (based on hours of grueling practice) with the mental toughness and fortitude to win major championships.
Writing six years after Vardon's death in 1937, his old friend and rival J.H. Taylor regarded him as "the finest and most finished golfer the game has ever produced…. His beautiful and graceful style was the result of his inherent genius for the game."
For seven glorious years between 1896 and 1903, Vardon dominated the emerging world of competitive golf. His three British Open victories in 1896, 1898, and 1899 culminated in an early form of corporate golf sponsorship from Spalding, who asked him to promote their new golf balls. He subsequently spent most of 1900 playing exhibition matches in the United States.
Vardon's presence in the United States was electrifying and did much to popularise the game. His stamina-sapping schedule involved long-distance train travel by night and competitive matches by day, often in front of crowds of several thousand spectators. When he played in New York, the Stock Exchange closed for the day so that brokers could observe the silky Vardon swing at close quarters.
He returned only once to Britain during this time (a return transatlantic boat journey of at least two weeks) to play in the British Open, where he came in second. Returning to the United States, he then proceeded to win the US Open at Chicago.
Despite many opportunities to stay in the United States, Vardon returned to Britain and won his fourth Open at Prestwick in 1903, but at great cost to his health. Shortly afterwards he was diagnosed with life-threatening tuberculosis. After a prolonged and frustrating period of rehabilitation, he resumed his golfing career. There would be two more Open championships and the now-legendary playoff loss in the US Open with Francis Ouimet at Brookline in 1913, but Vardon would never quite dominate the game in the way he had in those early magical years of the 20th century.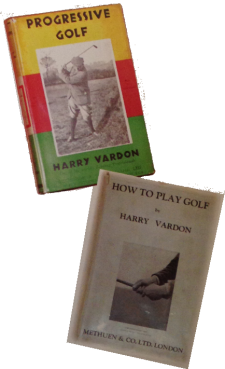 The Spalding tour of 1900 had already suggested the potential for corporate sponsorship. Vardon was rumoured to be have been paid an unheard of $4,000 for his year's work. There was to be a range of Vardon golf clubs, a new ball known as the "Vardon Flyer," but most of all, a succession of books. The first of these, The Complete Golfer, was first published in 1905 and was reprinted in over 20 editions. This was followed up by How to Play Golf in 1912 andProgressive Golf in 1920. These were all primarily instructional books, but also included Vardon's views on golf course design, his favourite courses, and the American golf scene. Focus is naturally given to the technique and merit of the overlapping "Vardon" grip still reputedly used by over 70% of golfers worldwide. The now very rare dust jacket of How to Play Golf has Vardon illustrating the grip with his strong and surprisingly elegant hands.
Vardon's final book, My Golfing Life (1933) is the usual ghostwritten bland autobiography written by a retired sportsman, however eminent. The world was to wait more than 60 years after Vardon's death to find out the true facts of his life. In 1991, Audrey Howell wrote an extraordinary biography accurately sub-titled "The Revealing Story of a Champion Golfer." She sensitively describes the deterioration of Vardon's marriage to his childhood sweetheart Jesse. Following the death of their newborn son and a subsequent miscarriage, Jesse appears to have suffered a breakdown and become reclusive; the marriage remained childless and increasingly loveless. Amidst the public adulation at the height of his golfing triumphs, Vardon's private life was one of unfulfilled sadness In 1920, Vardon met an actress called Tilly Howell and they soon began an affair. In 1925 she gave birth to a baby son. For a brief moment at the age of 55, Vardon glimpsed the possibility of domestic family happiness which life had not given him. However, at a time when the stigma of divorce could precipitate the abdication of a King, Vardon would not or could not walk away from his marriage.
It is unusual, if not unique, for the inner life of a sporting champion to be captured in this way, especially in the pre-Second World War period. But, Audrey Howell had access to unique sources in researching the book – her husband Peter is no other than Harry Vardon's son!
Brian Woolley is the owner of the internet-based bookseller Rare Golf Books, at www.abebooks.com/home/raregolf. He can be contacted at raregolfbooks@hotmail.com