Peckels Wins 5th Annual US Pro Hickory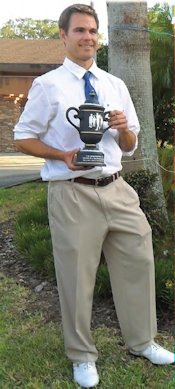 Eddie Peckels from Winter Springs, Florida, used a set of Precision hickory golf clubs from Louisville Golf to capture his second United States Professional Hickory Golf Championship at historic Temple Terrace Golf & Country Club in Tampa, Florida. The tournament, a commemorative to the 1925 Florida Open, is played with pre-1930-era equipment and balls. Peckels' game matched the name on his clubs as he cruised around the Tom Bendelow links in a smooth 1-over par 74, three shots better than Jim Garrison of Tampa and Will Peterson of Orlando. In addition to the $1,500 fi rst prize, Peckels' name will be affi xed to the John Shippen Cup, for whom the tournament
is dedicated. He becomes the second twotime winner of the championship along with Paolo Quirici of Switzerland. Nancy Henderson from Orange Park, Florida, recorded an 83 to take the honors in the Ladies division while outscoring several of the men competitors. The effort earned her $316 of the $5,000 purse.
The USPHGC is sponsored by the United States Golf Teachers Federation and is open to all golf professionals, male and female. Players compete for the same $5,000 prize fund associated with the original Florida Open won by Leo Diegel. The winner's name is engraved on the John Shippen Cup, dedicated to America's fi rst golf professional, which is on permanent display in the Temple Terrace clubhouse. USGTF Southeast Region director Mike Stevens serves as the tournament host. The tournament website is www.USProHickory.com.