My US Open qualifying experience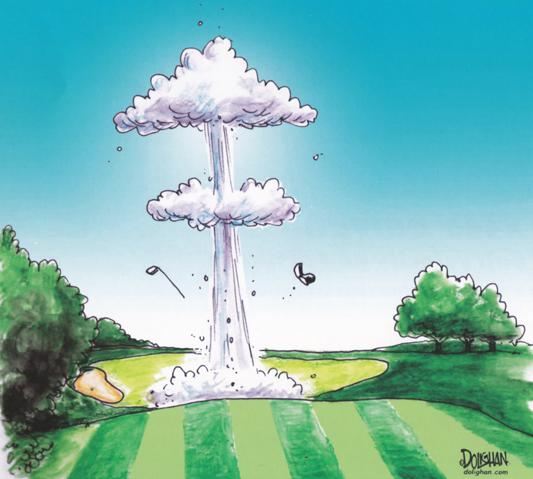 For some reason, I seem to play some of my best golf of the season during the United States Golf Teachers Cup. In the last issue of Golf Teaching Pro, you read about my good fortune in winning that championship five times.
In this article, you'll read about a competitive failure.
Unless you're Tiger Woods, or lately Phil Mickelson, you spend a lot more time losing than winning as a competitor – if losing is considered not finishing first. That's just the nature of the game, when dozens of competitors are vying for that solitary spot called "first place."
The US Open is the most democratic major championship in golf, because any professional, or an amateur with a handicap index of 1.4 or less, can attempt to qualify. I make attempting to qualify a yearly ritual…not so much in the hopes of playing in the Open itself, but in advancing to sectional qualifying. For me, that would be a competitive success.
US Open local qualifying is held at over 100 locations all across the country, and the fields are generally pretty strong. Each normally has a few touring professionals (most of these are mini-tour players, but there are the occasional Nationwide or lower-echelon Tour players), club professionals, and strong amateurs. Roughly anywhere from 6-8 percent of the field advance to sectional qualifying. Years ago, one or two over par was good enough to advance from most locals. Now, one or two under is the norm at most places. So, going into the local qualifier, you have a pretty good idea of what you need to shoot in order to advance.
This year, I selected as my local site the South Bend Country Club in Indiana, close to where I grew up. I could kill two birds with one stone: attempt to qualify and visit with my family. My dad had just undergone hip replacement surgery, and it was a good opportunity to look in on him (he's doing fine).
Although I had never played South Bend CC particularly well, I liked my chances this year. I was finally getting the hang of my new Callaway Fusion FT-3 driver, and my overall game was strong. And, seeing there were 69 players vying for five spots plus two alternate spots, I was cautiously optimistic I was going to be in the top seven.
My optimism changed once I played the practice round. South Bend CC is an old traditional course, with tree-lined fairways and severely undulating greens that featured contours from a past era. Although not overly long at just under 6,500 yards and a par of 71, the course can play difficult. In addition to the severe undulations, the greens were very firm, and the Stimpmeter I carry showed they were running at 11.
During the practice round, I was unable to get any ball to stop on the green unless I hit the very front part. The putting, on extremely fast greens with severe undulations, was something I was not used to at all. And the rough! It was US Open regulation 4-6 inches, and thick. I spent a lot of time during the practice round hitting all sorts of putts, chips, and pitches, trying to get used to the foreign conditions.
At this point, you might be asking, "Harman, you said you've played this course before and grew up in the area. How could the course's conditions surprise you and throw you off so much this year?" Good question. In previous years, pin positions on both the 9th and 18th holes were in the front part of the greens themselves. These greens slope from back to front. In the practice round, every single putt to these potential hole locations ran off the front of these greens, no matter how softly the ball was stroked!
I later found out that, in the previous years I attempted qualifying on this course, the Stimpmeter reading was around 9.5. I also remember well-struck approach shots would stop, so that means the greens were softer in prior years. I left the course very deflated. I thought I would have to play my best game just to shoot an even-par 71 – the score I believed it would take this year to advance. The morning of the qualifier, my ballstriking was sharp on the range and my putting touch on the practice green was good. I headed to the first tee, a 316-yard par-4, which required a 3-iron off the tee and a wedge into the green.
I know shot-by-shot descriptions are boring, so I'll make this as painless as possible to help illustrate the teaching points I will emphasize at the end of this article. I hit a flawless 3-iron tee shot on #1, and had 90 yards into the pin – a routine gap wedge for me. However, my old bugaboo – adrenaline-fueled nerves – reared its ugly head as I swung. I left the ball short in the thick rough and made bogey. Three putts on the second hole led to another bogey. A fanned approach on #3 led to a third consecutive bogey.
Every single bogey was due to nerves. These nerves were due to my defeatist attitude coming into the round.
I managed to right the ship and play the next eight holes in one-under par, but a devilish 6-6-6 (bogey, double, double) on holes 12-14 sealed my fate. I played the final four holes at -1 for a six-over-par 77. One-over 72 got into a playoff for the last spot.
In analyzing the round afterwards, I realized I actually came pretty close to shooting that 72. There are three things I never want to do, things I call my "cardinal sins." On the surface, they seem relatively simple to avoid for any single-digit handicapper…and in fact they are. These cardinal sins are more the result of carelessness or a faulty mental process than anything. They are: 1) avoid three-putting; 2) avoid making a bogey with a wedge; 3) avoid making a 6 or a double bogey.
I wasted five…FIVE…shots doing this stuff. That would have turned my 77 into a 72. The course didn't beat me. The field didn't beat me.
I beat myself.
As with all failures, lessons are learned:
There is an old saying, "If you think you can or think you can't, you are correct." It's true. Get your students who compete to believe in their abilities.
Get a game plan. South Bend CC was beatable for me, but I wasted so much mental energy in worrying about failure that I didn't take the emotion out of planning the round.
Be mentally tough and don't give up or give in. These sound like clichés, but they, too, also are very true.
Have fun! We stress this all the time at the certification courses. I should have followed our own advice. Instead, I put way too much pressure on myself.
In contrast, I have so much fun playing in the US Golf Teachers Cup that all the other stuff falls into place. The last lesson might be the most important.
Make sure your students know it, too.