My Trip to Ireland A Memorable Journey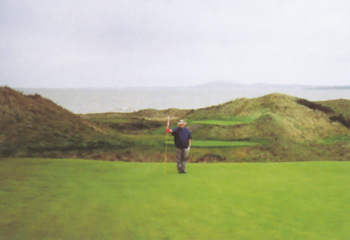 "It'll take the strength of a man to do it, I'm too hungover." And with that sentence, our Dublin rental car agent quit helping us adjust the seat and went
back to her post. Welcome to Ireland!
If the stereotype of the Irish being drinkers and fighters was to be dispelled, we would have to look for another source. And, well, we did see a fight, but more on that later….
USGTF employees Marty Delohery, Bob Wyatt, myself, and president Geoff Bryant all trekked to the Emerald Isle this past September as part of the USGTF-sanctioned trip there. While I have been to Europe on seven previous occasions, including the UK, I had never been to Ireland and greatly looked forward to it.
Ireland boasts some of the oldest and best courses in the world. Even those not on anyone's list of "best courses" were true gems. We were fortunate enough to be able to play a mix of old and new, parkland and links, famous and not fa
mous.
USGTF member Greg O'Kane, an American living in Dublin, was our host. With a name like O'Kane, it seemed only natural he would wind up back in the land of his ancestors. As with anyone you don't know, there was some trepidation whether Greg would be an okay guy.
He turned out to be more than okay. Speaking at least for four USGTF employees, I can say that a fast and true friendship was formed during our week there. Greg went out of his way in scheduling the courses and activities for the week.
Greg is a managing partner in the Grove Hotel in Malahide, north of Dublin, where we stayed for the week. He is also a skilled chef, and his culinary skills in creating a pizza are second to none.
On our first day, we were able to get in some golf at the nine-hole Sutton Golf Club in Dublin, a venerable old course and a true links. Like many golf courses in Ireland, Sutton Golf Club had no driving range, so our warm-up was limited to hitting a few practice putts.
Playing with Marty, Bob, and Geoff, we all hit good drives on our first hole. Geoff had about 100 yards for his approach, and when he lofted a beautiful, high, American-style pitch shot that would land right by the hole…I knew it was the wrong shot! Geoff's ball bounced and rolled about 60 feet past hole, leaving him a tricky putt. Welcome to links golf!
On day two, we played the Portmarnock Golf Links, not to be confused with the historic Portmarnock Golf Club. Bernhard Langer designed the Links, which opened in 1994. I must say he did an excellent job, creating a very interesting and varied challenge.
Druid's Glen Golf Club played host on our third day. It was also the first day where the sun shone and the wind didn't blow.
Druid's Glen is located in the town of Newtownmountkennedy (you gotta love those Irish names), south of Dublin. The course has played host to Europe's finest, being a European Tour stop from 1996-1999, and a host to the Seve Cup, the annual Ryder Cup-style competition between the teams of Great Britain/Ireland and Continental Europe. Greg informed us it was known as the Augusta National of Europe, but after having been to both places, I think Augusta National should be known as the Druid's Glen of America!
Trekking back to Malahide (which is north of Dublin) along the coast, we came across a very interesting-looking golf course that was the hilliest we had ever seen. It turned out to be Bray Golf Club. Since we had time for another nine, the staff was kind enough to get us out with little notice.
Day four brought us to St. Margaret's Golf & Country Club in north Dublin, and the typical Irish weather returned. It was so windy that my Ping carry bag often got blown over after I set it down! Predictably, none of us broke 80 in such brutal conditions, but the wind only added to the experience.
Now, all week long, Greg had been talking up the European Club near the town of Brittas Bay, the course he scheduled us to play on day five. He went so far to say that, in his opinion, it was a better course than the historic and top-rated Royal County Down. Such big promises that don't deliver can really put a strain on a guy's credibility, but if anything, Greg didn't talk it up enough. We were fortunate enough to meet Pat Ruddy, the architect and owner of the European Club and a friend of Greg's. A recent Golf Digest article detailed how the European Club was Pat's dream, destined to be his life's work until the day he dies. In fact, he feels so strongly about his course that he actually turned down $30 million for it.
Driving back at night, we stopped at a convenience store to get gas…er, petrol, as they say in Ireland… when we noticed a group of teenagers outside the front door. One of them had a beer in one hand, and the other boys would take turns and occasionally slug the guy in the face! But the strange part is that the sloshed lad simply laughed each time they hit him and would resume drinking his beer. There were some girls in the group, evenly divided between being peacemakers and egging on the sluggers.
So okay, we know that some of the Irish are drinkers and fighters. But, I guess that's probably a universal human trait. I will say, though, that they have a uniquely colorful way of going about it.
Greg set us up to play Balcarrick Golf Club, north of Dublin, on day six. The sun finally shone again but, as usual, extreme winds were present and whipped all of us into 80+ scores one more time.
That night, Saturday evening, Greg invited us into downtown Dublin to see him play in the band that he belongs to. While Greg may no longer be a scratch golfer due to his work duties, he is definitely a plus-handicapper when it comes to playing lead guitar. Downtown Dublin on a Saturday night is something every funseeker should experience. Think Bourbon Street in New Orleans or Rush Street in Chicago, only much grander and much cleaner.
Day seven was the final day of our golf. We played St. Anne's Golf Club, on the Bull Island Nature Preserve. Of all the links we played in Ireland, this course seemed to be the truest in the sense of the terrain.
Being Ryder Cup Sunday, we were able to catch the final round of play in the clubhouse that evening, watching with dozens of partisan club members. Since the USA was so far behind heading into that last round, we all knew what the outcome would be. While we were sorry to see our side lose, we did enjoy witnessing the jubilant and sometimes-raucous Europeans cheering on their side. Even though we were the "enemy," they treated us kindly (for the most part).
We flew back to Philadelphia on day eight, with one final amusing incident thrown in. While Geoff, Marty and myself were checking in, we were all wondering where Bob went. Twenty minutes after we had checked in, here comes Bob, claiming he had gone to arrivals instead of departures by accident. For such an experienced international traveler as Bob, it seemed a curious mistake. But, I guess after a week of driving on the "wrong" side of the road, it's no wonder one of us finally got turned around.
I have now had the privilege of playing golf in Spain, Germany, England, Scotland, and now Ireland. I can truly say that, while each country offers a unique experience, Ireland holds a special place for all of us. We hope to return soon.