My Trip to India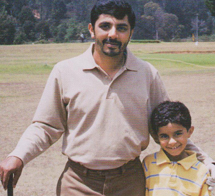 India – For most Americans, the name invokes thoughts of a far away, mystical country. My golf-teaching career recently took me there, at the invitation of Amit Saran, President of the India Golf Teachers Federation. "The Mission," to borrow a phrase from the popular TV series of the 70's, Charlie's Angels, was to conduct a certification course in the South Central region of the country.
With my golf bag exceeding the legal weight limit concealing a weeks supply of bottled water (I take water wherever I go), I boarded a plane from Miami to London and then another directly to Cini, a town in Southern India. One more plane trip took me to Coimbatore, where Mr. Saran graciously met me upon arrival. From there we journeyed by car 1 1/2 hours climbing 6,500 feet in elevation to our final destination of Wellington Golf Club near the city of Ooty. This area is well known for their military base and high-ranking India military personnel. My accommodations featured a separate, well-equipped cottage on the grounds of the golf course.
One of my childhood images of India had included that of the fearless snake charmers. As a result of this, I have to admit that the first evening in my new abode, I did take a little peek under the bed for any signs of pythons, cobras, or anacondas! With no visible evidence, I slept quite well that evening. Well ok, for those who know me well, I did check under my bed every evening!
Anyway, the course itself went quite well. We had many interesting participants from various backgrounds and I found the people of India to be extremely friendly, courteous, generous and most eager to learn.
India is actually on the fast lane of development in the golf industry. Historically, the Calcutta Golf Club was founded in 1829 and is the oldest surviving golf club outside the British Isles. Royal Bombay and the Bangalore Golf Club were also established in the middle of the eighteenth century. Today India boosts approximately 50,000 golfers and 250 golf courses nationwide.
I would like to thank Amit Saran for the opportunity to visit India and for also being a great host. The unique thing about the World Golf Teachers Federation is the close bond that exists among all member nations. Amit Saran has expressed interest in initiating an exchange program for any WGTF members interested in broadening their horizons. You may contact him atsaran@vsnl.com. Happy Teaching!