Letter to the Editor: Certification Course = Great Time for Friends from Norway!
Certification Course = Great Time for Friends from Norway!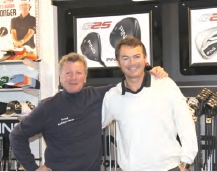 We had the joy and great experience of attending the USGTF Level III course in Fort Pierce, Florida with Bob Wyatt. We had a fantastic week, learned a lot, and we are bringing many good ideas back to our club in Norway. This  club is operating differently than most courses in Norway, and probably there is nothing like it anywere. We have, for the last couple of years, really focused on the big issue in golf – how to  keep members and also expand the number. To do that, we have made it much more attractive to pay the initiation fee. We now include unlimited free range balls, 10 free instruction hours to be used at any time, and 30 hours of group training every week. Also, the initial entrance fee paid when you started to play, you can get back at any time. With this program it makes it much easier to make people pay the fee of $2,500 up front.
We are strong believers of the fact that if customers do more training and instruction, they will become better, enjoy the game more, and there is a bigger chance they will continue playing golf and eventually fall in love with the game. By giving free range balls and free training, we also encourage our customers to come out to the course more often to "socialize," which will add value and therefore continue the relationship with us.
Finally, we are now in the process of building a new set of tee boxes for beginners and juniors, so no holes will be more than 250 meters long, making a total of 3,500 meters for the whole 18 holes. This, so the beginners and juniors can start playing and enjoy the game right away after their fi rst instruction course without feeling it is too diffi cult. For most beginners, facing a full 18-hole golf course, even from forward tees, seems way too diffi cult. When it is too diffi cult it is not enjoyable, and the result is that many give up without giving it a real attempt. With an easy course from the new tees, free range and instruction, customers can build confi dence and skills at their own tempo. When they feel ready, they can play from the longer tee boxes to enjoy the game even more.
Sincerely,
Ådne Stensland and Eivind Klemetsen