Learning From Ski Teaching Professionals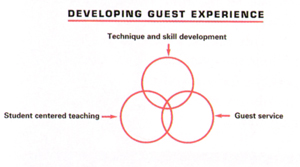 People take ski lessons for improvement and enjoyment. In the summer, golfers take golf lessons for improvement. But enjoyment? Are you doing your part to make sure that is the case? An effective ski instructor has a way of delivering a positive 'guest experience' and a method of work that is both technically sound and results orientated. The technical components of ski teaching are: solid analytical and development tools, but understanding people (your clients!) is as important as technical understanding.
We in the ski teaching business believe that effective teaching combines technical knowledge with a student-centered approach which in turn will create a memorable 'guest experience'. (See diagram).
In the same way that skiing or golfing skills can be practiced and developed, teaching skills can also be learned. By looking at the three components of ski teaching, as developed by the Canadian Ski Instructor's Alliance, golf teachers too, should be able to identify areas for their own further development as teaching professionals, starting with Guest Service.
Guest Service
Dealing with the student's communication and psychological needs
Creating an awareness of the alpine environment
Having a helpful and positive approach in your teaching
Student Centred Teaching
Task-Result orientated
Dealing with the individual student's development needs
Being prepared to adjust your tactics
Technique and Skill Development
Based on physics
Understanding the concept of 'Movement and Motion'
The five skiing skills system is the basis for the instructor to be able to detect errors (analysis) and then to work on correcting them (development) all the while, keeping the lesson simple, creative, and fun.
Can you see the above three CSIA components of a good lesson being applicable to you in your situation as a golf teacher?
Let us now take a closer look at the 'guest service' component.
Just like ski schools, golf pros, golf schools, golf academics etc. exist within the context of a larger industry picture. The golfing experience at a club, resort, or even a driving range, must represent value to the customer and golf instruction can be a valuable part of this. Although the golf pro does not come in contact with all the golfers at a resort or club,0 they do spend substantial amounts of time with those that they do see and teach. They also have the unique opportunity to create lifelong participants in the sport by teaching many beginners and children.
Teaching is mostly about people. Putting your customer at ease, catering to their desires, and delivering a memorable learning experience, means success as a teacher, no matter what the sport. Technical proficiency and a student centered approach are also needed, but are only useful if the message is accessible to the client.
Let me finish off with how I structure my ski lessons and see if you can relate this to how you teach your golf lessons:
First things first: introduce yourself, look them in the eye and give a firm handshake.
Learn their name(s) and take an interest in their background
Ask them what their expectations are in taking the lesson
From that, formulate then state your teaching objectives
Warm-up
Evaluate them this time as to their skill level, fitness, and mental state
Taylor your session from what you have learned from the above
Then teach and get results by using the student-centered approach
Finish on a positive note
Do an individual wrap-up
Establish individual goals for the next lesson through practice
Thank-you(s), handshake(s), and goodbye(s)
Some final words of advice…infact them with your own enthusiasm for the sport, don't let embarrassing or negative situations arise by pushing the student too quickly, be an agreeable listener, use kind words and compliments, be pro-active, make it fun, and most important of all, be there for the guest.
This is the second in a series of articles about what we can learn from how the sport of snow skiing is taught is Canada.
Editor's Note: Knute Dohnberg is a CSIA Level IV certified ski instructor and an active Course Conductor of certification courses in the Province of Ontario. He has been teaching skiing for over thirty years and is the technical director of The Beaver Valley Ski School, located in the beautiful Grey Highlands near Flesherton, Ontario, Canada. He can be reached at knuted@rogers.com.