Learning From Ski Teaching Professionals part I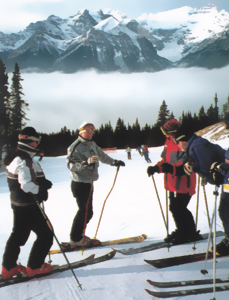 Recently I bought a private golf lesson for my son Erik, on his thirteenth birthday. He was elated! A week later at the appointed time, we showed up atthe public golf club in London, Ontario where I had purchased the lesson. Upon presentation of the voucher, the teaching pro named Kyle, somewhat unenthusiastically introduced himself to us and asked me what kind of lesson we were expecting. I answered, "Just work on some fundamentals," expecting the focus of the lesson to probably be on the grip, the take-back, the follow-through and finishing with some practice swings. WRONG! He led us out to the practice green just outside the pro shop, which was quite large, and had a noticeable tilt to it, back to front.
Kyle seemed in a bit of a hurry. He explained that it was too far to walk over to the club's driving range to work on full swings, so instead, he was going to work on chipping around the green. Okay, fair enough, I thought. I discreetly retreated to the far side of the green and plopped myself under a large shady tree thinking that I may just pick up a few tips myself, watching from a distance.
Before I continue, perhaps I should tell you that I am a fifteen to twenty something handicapper, probably your average, to slightly above average golfer who plays once or twice a week, wishes he could play more, and probably should take some lessons myself to correct the basic flaws most golfers of my level and vintage have. However, I am also a Level Four C.S.I.A. (Canadian Ski Instructors Alliance) ski pro and have been for over thirty years. I have taught not only in Canada, but also Australia, New Zealand and several years in the U.S., and as a result, think I know a thing or two about not only teaching skiing but also about teaching or coaching as it pertains to any sport, whether it be skiing, swimming, baseball, golf or whatever.
With this in mind, I would like to compare the teaching approaches between what I saw that summer day last year to what we in the ski teaching business would preach. Not being a certified golf professional, I cannot compare conceptually how Erik's lesson should have been presented according to golf teaching doctrine, but rather how I would have approached the lesson as a 'sports pro'.
The C.S.I.A doctrine which I teach from each winter, is based on three fundamental principles:
1. Technique and Skill Development
The skills system and technical knowledge should keep teaching simple, creative and fun.
2. Customer Centered Teaching
Achieve results for the client by basing teaching decisions on their needs; focus on their progress and development.
3. Developing the Guest Experience
Dealing with the customers' communication and psychological needs.
Personally, in my own teaching, I would almost put the "Guest Experience" first. Initially, I make sure to formally introduce myself to the customer and look him (or her) in the eyes as I firmly shake their hand. Upon learning their name, I make a point of asking them to tell me about themselves, why they are taking the lesson and what their expectations are as a result. I then tailor the lesson as close to these expectations as is realistic according to their ability level. I do this by watching them warm up. In golf, that probably means watching them hit a few balls; in skiing if would mean going up the ski-lift (giving you further time to converse with the student), then skiing behind them down an easier slope. (Our logic here is maximum speed on minimum terrain rather than minimum speed on maximum terrain.) The warm-up allows me to evaluate their skill level in terms of not only technique, but their fitness and mental state as well.
I then introduce the concept and goal of my lesson, repeatedly demonstrate it ("a picture is worth a
thousand words"), then explain it as simplistically and clearly as I can, then have them try it a few times, and after observing their progress (or lack of), make an assessment of their progress and then figure out how I can develop it further. Note the above highlighted words that basically summarize the ingredients of a good lesson: choose the proper terrain, introduce the goal, demonstrate the skill repeatedly, explain how to, have them try it, and after observing them doing it, assess their progress, and then figure out how you can develop that progress even further.
Throughout the lesson I remind myself not to 'rush' my teaching agenda, not to 'push' the pupil too much (although at higher levels, there are students that demand an aggressive approach), to 'build' the lesson up as it progresses, and finally, end on a positive note or even some kind of a 'high' if possible. The student will then leave your lesson as a 'Happy Camper' and that's what it's all about: skill improvement, skill achievement and FUN!
Back to Kyle and my son's golf lesson…the pro picked a target pin and then quickly chipped five balls close to his target. Erik followed – three topped balls, one reasonably good chip and one chunk later (was Kyle assessing his skill level at this point?), Kyle repeated his demonstration (three good chips, two so-so) and then asked Erik to keep his head down and concentrate on a smooth half swing with a conscience follow-through. On his second try Erik's chips became a bit more consistent. Progress! Great!
To my further surprise, Kyle's 'choice of terrain' was near the upper side of the tilted practice green, shooting downhill. Personally, I would have thought a flop shot would have been easier to execute swinging on an up-hill slope. Sure enough, Kyle's flop shots, although demonstrated reasonably well, were not that consistent. That should have told him something. Erik's attempts were absolutely futile and could better be described as 'flop chops'. I could tell he was getting frustrated. The word 'FUN' was nowhere to be seen. Gradually however, Kyle caught on to his tactical errors and realized he had somehow overestimated Erik's skill level (assessment), chosen the wrong exercise (development), and definitely chosen the wrong side of the green from which to chip (choice of terrain).
Somewhat apologetically, he inferred that the flop shot was perhaps not the appropriate skill to be working on 'today' and suggested instead, that they now turn their attention to putting. The balance of the lesson was much improved, and I can honestly say that Erik did learn something about putting and he did seem reasonably satisfied when the lesson ended.
After Kyle (again, somewhat casually) said his good-byes, I took Erik onto the patio for a soft drink. A few minutes later, who do we see teeing off at the first tee, but Kyle with what looked to be his girlfriend. Now it all came together for me – he had used the lesson with Erik as a personal warm-up session for his own upcoming round of golf, putting his perceived needs ahead of those of his customer. I said nothing. Erik finished his drink and asked if he could hit a few balls on the range before we left. We did – and we had FUN doing it.
Next time, I thought on the way home, I'll need to be a little more careful to pick a more experienced or mature golf pro for a private lesson, or maybe, just maybe, this was just one of those things that happen to all of us from time to time.
Editor's Note: Knute Dohnberg is a CSIA Level IV certified ski instructor and an active Course Conductor of certification courses in the Province of Ontario. He has been teaching skiing for over thirty years and is the technical director of the Beaver Valley Ski School, located in beautiful Grey Highlands near Flesherton, Ontario, Canada.