Identifying A Student's Learning Style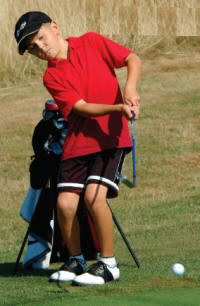 Connecting with each student is the most important thing you can do. If you can develop an individual relationship with each student, you will be more efficient in your teaching. And, students will learn more, better enjoy the experience, and come back to you.
Students I talk to say they like to feel like an individual. Even though they may have the same issues as
dozens of other golfers, they like to be treated as if their problems and goals are unique.
Taking the time to personalize a lesson plan is one of the best things you can do to develop an ongoing
relationship. This implies two things: asking questions and listening.
I have presented speeches and seminars to teaching pros for over twenty years. Here is a secret: no matter the topic, I always survey the audience as to how many regularly use a pre-teaching questionnaire. Typically, only about 25 percent raise their hands. I believe having new students fill out such a questionnaire establishes both the framework for the lessons as well as develops a relationship.
Typically, questionnaires survey students' backgrounds, golf experiences, and especially physical limitations. Some others might include neurological orientations; meaning dominant hand, foot, and eye. Most forms include space for the golfer to detail specific goals for the lessons. Such a questionnaire is not only an assessment, but also becomes as contract.
One key category is having students describe their best learning styles. I still like the Neurolingistic Programming (NLP) model of being predominantly either a visual, auditory, or kinesthetic learner. Such information is valuable in tailoring and communicating lesson content.
If the student does not know which they are, have them become aware of the words they say and think. Visuals will say, "Picture this," or "Imagine that." Auditories will say, "It sounds right," or "It rings true for me." And kinesthetics will say, "My sense is something does not fit," or "My gut tells me this is correct." Which style is Johnny Miller?
One of the challenges of working with each student is to develop creative ways to connect with the person's learning style. For example, if the student is a visual learner, the teaching pro should demonstrate positions and motions both in slow motion as well as in real time. Visual learners also benefit from statically seeing their own positions. Full length mirrors can be great aids in having students see their own bodies. Finally, video sessions are valuable in having visual students see their own swings from angles they cannot see on their own.
If the student is an auditory learner, the teaching pro should always anchor positive sounds of the desired action. Have the student grasp the club by the hosel and swing the club to hear the swooshing sound of the shaft as it goes through the slot. Have auditory learners listen to the desired click of contact with the ball. This is especially important on putts. Auditories greatly benefit from knowing the sound of a square face at impact. Finally, have them hear the desired thump of the sand on explosion shots.
If the student is a kinesthetic learner, the teaching pro should always emphasize how the swing relates to the person's senses, balance, and tempo. Sensitize them to the feelings of correct posture during setup – feet pressure, hip position, spine angle, shoulder position, grip pressure, and so on. During the swing, have kinesthetics feel extension, rotation, coiling, and release. Dynamic training aids are useful in helping them isolate the correct feeling, such as a ball under the outside of the rear foot, a headcover under the leading arm, swinging on a balance board, or your hand on their head to restrict an improper movement. Most importantly for kinesthetics, emphasize how tempo and timing feel for them.
Honoring each student's predominant learning style not only personalizes the instruction, it makes your content emphases more easily implemented.
One of the best comments a student can make about the teaching pro is, "She made it seem so clear." This is one of the best compliments you can ever receive. This means you have taken the time and effort to customize your content into the student's learning style.
It is also the hallmark of your professionalism.
Dr. Tom Kubistant is one of the original golf psychologists. He has written three books and over 300 articles on the mental game of golf. He also maintains "The Complete Bibliography On The Psychology Of Golf." He loves talking with USGTF members and can be reached directly online at Kubistant@aol.com or in Reno, Nevada, at (775) 345-0340.