HISTORICALLY SPEAKING My 19th CenturyAdventure in 21st Century Golf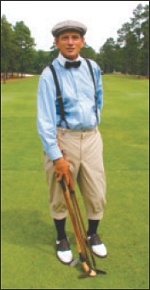 It was a spectacular morning as contestants lined the practice tee in preparation for the United States and World Golf Teachers Cups in Boulder City, Nevada. To steal a line from P.G. Wodehouse, "a day when all of nature cried fore."
As I settled in to work out the aches from a long day's journey, there were metallic cannons to the left of me. "Tink, tink, tink." Little white orbs launched into the stratosphere. Harder than steel bazookas to the right. "Klink, klink, klink," more spheres soaring into oblivion. Then I'm up, a well-timed swing and "thwack," the red-circled two-piece floats gracefully out 200 yards into the rolling meadow.
When I was a young lad, one of my second homes besides the golf course was Pynchon Park, a residence of the Triple-A Springfield Giants. I loved to get there early and watch batting practice. One of the sweetest sounds in sports is the crack of a baseball jumping off a well-timed wooden bat in motion. Each hitter warming up, reproducing that sound like a steady drum beat, was music to my ears. Golf used to be like that. The sound of persimmon striking a wound balata was special. It was elegant and polished. It was refined. And sadly, it is virtually gone.
As I continued swinging with my hickory-shafted Louisville Golf persimmon head driver and watching ball after ball airmail my best offerings, I wondered if there was any chance of not finishing dead last in the field of 193 golf teachers. But, this is how I play. Ten clubs, all hickory, a commitment I made because of all the equipment I've tried, and I've tried it all; they give me the most pleasure. It also goes without saying that I have a deep feeling for the game's history and all that has come before.
There are no words that I can use to describe the enjoyment I get from my clubs. You have to experience it for yourself, but I would encourage anyone to get just one club and hang on to it. Hit some balls with it now and then and imagine walking with Jones or Hagen at Brookline or Merion. Or, having to lay a niblick stone dead to win the Open at Fresh Meadow. But I digress, back to the present.
This year's gathering of golf teachers from all over the world occurred at the Boulder Creek Golf Club and the Boulder City municipal course just east of Las Vegas. If you are a member of our fine organization and have not participated in a U.S. or World Cup, you are missing something truly remarkable. I have been making the annual journey since 1996, and have witnessed a steady increase in the quality and depth of our membership. Several scoring records were set, and my congratulations to the winners in each division. I guess one could even say that I established a record in shooting the lowest score using 1900 equipment in a modern tournament.
We played both courses twice over the four days of competition. The style of play required on each course certainly highlights the difference in golf today and that of years ago. Boulder Creek is an exquisitely maintained resort facility with nary a blade of grass out of place. The holes are long, mostly straight, with large rolling greens. It pretty much forces you to play one way, high shots with lots of spin to hold the firm putting surfaces. Oh, and their nachos aren't bad either.
Boulder City, on the other hand, is pure municipal, not the most pristine, but offering an infinite variety of shots while navigating your way from tee to green. I loved it. I would have been happy to play it everyday. There was community there and regulars, many of them oldtimers, but I saw the gleam in their eyes as I approached in my
plus-fours, shirt, tie and clubs in tow. A little smile, from which I surmised they were recalling some memory of their own golfing past as they complimented me on my wardrobe.
As for my play, I submitted scores of 84, 76, 82, and 79. Rounds that would have won the first U.S. Open played over 72 holes in 1898. All in all, I held my own. Even averaging about 210 off the tee, it was not my long game that let me down. My putting was atrocious. My day-to-day average is 29 putts per round. In the desert it was 34, 34, 36, and 38. Sure, there is more pressure, but a four-putt and 10 three-putts are inexcusable. Just averaging 30 putts a round would have placed me in the top ten in the U.S. Senior and 4th in World Cup Senior. I certainly know what I have to work on if I want to get back to the winner's circle as I did in 2004.
And back I'll be, God willing, same clubs and a few new outfits. Until we next meet, good teaching, and I surely hope you hit them far and sure.
Mike Stevens is a member of the USGTF and golf pro at MacDill Air Force Base in Tampa, Florida. He was the 2004 U.S Golf Teachers Senior Champion and the 2005 National Hickory Champion. For information on obtaining hickory golf clubs, go towww.tadmooregolf.com or www.louisvillegolf.com. To find out about hickory golf tournaments around the globe, go towww.hickorygolfers.com.