Gulych Wins US Cup In Spectacular Fashion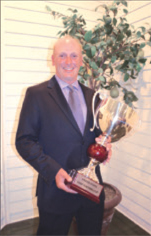 Maybe it's the experience of being a little bit older, or maybe it's the way they play up north. Whatever the case, the 18th edition of the United States Golf Teachers Cup was somewhat of  a repeat of the 17th edition: A golfer over 50 won for the second consecutive year, as did a golfer from Canada.
Grant Gulych, a longtime participant in the US Cup, realized his playing potential by overwhelming the field with a fi nal-round 69 in claiming the 2013 title at Tunica National Golf Club in Tunica Resorts, Mississippi, just south of Memphis, Tennessee, this past October 7-8. Gulych poured in five birdies and an eagle, making putts from seemingly everywhere.
His two-round total of 147 refl ected the tough conditions of the fi rst day and was the highest Winning score since another Canadian, Dave Belling, took the title in 2004 at Carter Plantation near New Orleans, Louisiana. Last year's defending champion, Bill Hardwick, fi nished as runner-up with scores of 78-73 –151.
For Gulych, winning the championship is an important milestone in his golf career. "Winning the US Cup means the world to me," said Gulych. "The one person I did not thank (at the banquet) was my wife Sharon. The encouragement and support she has given me over the past fi ve years through the highs and lows made me push even harder to become the best player I can be and make her proud to be the wife of a US Cup champion." Gulych can be forgiven for not mentioning his wife, because all who know him know how much Sharon means to him.
The first day saw extremely high winds and fast, but fair, greens in excellent condition. Tunica National also has many bunkers and water on virtually every hole, making for a tough challenge. The course was set up somewhat shorter than it normally would have been to try to mitigate the circumstances, but it was a futile effort for the most part. Veteran competitor Bruce Sims opened with a 75 to take the first-round lead, with Mick Stocker and Steven Pezzino hot on his heels with matching 76s.
Cole Golden and Gary Cricks were another shot back at 77, and only five more of the 69 competitors broke 80 on the day. One of them was Bob Wyatt, the USGTF national coordinator, who at age 63 turned in a fine 79. Wyatt is busy working full-time and is seldom able to play or practice, so his first-round showing was a pleasant surprise.
The second day dawned sunny and with less wind. Sims hung tough for the first four holes by shooting -1, but double bogeys at holes 5 and 7 derailed his chances. Stocker was in the hunt until an unfortunate quadruple bogey at the seventh, and Pezzino's day got off to a bad start at the first, including a two-stroke penalty, and he never recovered.
Meanwhile, in the penultimate group, Cricks, Golden, and Gulych were lighting it up. Cricks birdied two of his first five holes to move into the lead, but Gulych also had two birdies of his own and Golden one. Cricks was unable to maintain his pace as he double-bogeyed the sixth. Golden kept making pars, and Gulych finally broke the tie with Golden with a birdie at the ninth to take a one-stroke lead heading into the final side. It was still close through 13 with Gulych holding a two-stroke lead over Golden, but an eagle three by Gulych on the par-5 14th with Golden making bogey gave Gulych a five-stroke advantage with four to play.
Gulych's work wasn't done, though, by any stretch. "The one moment that signified my round was the par-5 16th," said Gulych, "where I went driver down the middle, and with 175 yards downwind I hit a 7-iron to the center of the green, leaving a 20-foot eagle putt. This left an easy two-putt birdie to go 4-under with two holes to play. The second shot on 18 was probably my best shot of the day, considering my nerves, as I hit my drive in the bunker on the right side. After composing myself, looking at a 170-yard bunker shot over water, I pulled the 6-iron and placed my ball on the front left corner of the green. After that, I got a chance to take a breath and enjoy the final putts, knowing I was going to finish under par and giving me a chance to win."
Tournament runner-up Hardwick still went home with some hardware, as he captured the Super Senior title. Matt Smith, defending Open division champion, shook off an uncharacteristic 81 in the first round, coming back with a final-round 71 to tie Golden at 152 in the Open division. Smith defeated Golden on the second hole of sudden-death to again claim that title. At the closing banquet and awards ceremony, Smith gave a moving speech about overcoming stuttering and how much winning the Harvey Penick Trophy meant to him.
Jenny Brock won the Ladies division on the second hole of sudden-death, sinking a 10-foot putt to outlast runner-up Kathy Hester. Both players finished with scores of 175. Donald Smith captured the Legends division title for the first time on scores of 80-78 – 158. The location and dCup have not been set as of press time.