Emotional Toughness Training for Golf Coaches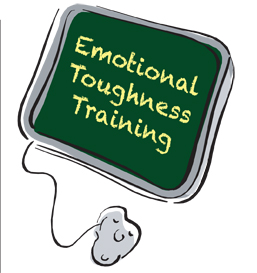 Golf Digest recently did a survey anddiscovered that the number one complaint among golfers is their inability to take their best game from the range to the golf course. This course, Emotional Toughness Training for Golf, is a sports psychology certification program for the new USGTF coaches division, the World Golf Coaches Alliance. To be the best coach you can be, you must also be an expert in the field of sports psychology. Teaching the fundamentals of the golf swing to your competitive golfers is not enough.
For your golfers to play their best every day, you need to be able to teach them how to master their emotions on the golf course. When they have both the physical and emotional components of the game, then they will be able to bring their best game to the course!
The instructor for this course is longtime USGTF sport psychologist Dr. Gregg Steinberg, who has been ranked by Golf Digest as one of the greatest golf psychologists in the world. He has worked with many professional golfers, collegiate teams, and juniors. Dr. Steinberg is a full professor of sports psychology at Austin Peay State University, where he has taught for 17 years. Dr. Steinberg currently writes a weekly mental game column for PGATour.com and does a weekly mental game segment on "Talk of the Tour," which can be heard on PGA Tour Radio on Sirius/XM. He has appeared numerous times on Golf Channel to speak about performance issues in golf (as well as on "Dancing with the Stars" – but he did not dance).
Dr. Steinberg will show you his method for helping golfers to play their best under pressure. His main philosophy is that successful golfers have mastered their emotions as they have developed effective emotional habits. Because we go to our habits under pressure, successful golfers rise to the occasion by falling forward into their effective emotional habits under pressure. The most successful golfers can remain calm, focused, and confident when times get tough on the course. On the contrary, unsuccessful golfers fall back into their bad emotional habits when the pressure hits them. Their nerves get the best of them and they lose their focus and confidence, ultimately leading to poor play under pressure.
The main focus of this course is to show you how to develop effective emotional habits in your students so they can play their best under pressure, every day! The first class on January 15 is an introductory class of the Emotional Toughness Training for Golf program. This course is free to all USGTF and WGTF members. The next six classes will discuss each component of emotional toughness in more detail and will be presented as follows:
Class 1 – Emotional Awareness:  Being aware of your best and worst emotions is key to performing your best under pressure.
Class 2 – Emotional Preparedness: Being prepared with positive self-talk and visualization gives you great confidence.
Class 3 – Emotional Bravado: Reducing our fears and kicking the anxiety habit can help our golf performance.
Class 4 – Emotional Connectedness: Staying focused and quieting the mind are essentials to golf.
Class 5 – Emotional Drive: We need to be motivated to practice and compete. Finding the joy again in our play is essential.
Class 6 – Emotional Balance: We need to take a 360° look at the golfer and discuss the student, parent, and coach interaction.
Each webinar course will be 60 minutes, with the last 10-15 open for questions and discussion. The webinars will provide basic knowledge and research, as well as provide a multitude of simple hands-on exercises that coaches can give to their players to master each skill. Also, the webinar series will be highly dynamic in that you can e-mail Dr. Steinberg with topics that he will discuss in detail during the series.
At the completion of this course, you will be able to help your students:
1) Develop an effective pre-shot routine for getting focused and relaxed
2) Develop an effective post-shot routine for letting go of negative shots
3) Create a method to avoid paralysis by analysis in your students
4) Have a better understanding to which emotions they need to play their best
5) Develop methods to promote better concentration
6) Stay relaxed, yet energized, under pressure
7) Keep and maintain confidence
8) Bounce back from bad shots
9) Stay motivated to practice
10) Understand how to set their personal intensity level
11) Rid their minds of negative thoughts and emotions
12) Stay optimistic in times of difficulty
13) Kick the anxiety habit
14) Find serenity on the course
15) Plus, many more essentials and tools for you to be an expert in sports psychology.
After finishing the course, you will receive a sports psychology expert certification endorsed by the USGTF. The introductory course on January 15 is free. The six subsequent courses to receive your certification will cost $249.00. The six courses will be Wednesday nights at 7:00 p.m. EST and run from January 22 to February 26. Everyone who signs up for the six courses will receive Dr. Steinberg's Washington Post bestselling book Full Throttle, on which the class will be based.
You will also receive a $249.00  credit to the World Golf Coaches Alliance full certification course. To sign up for the free webinar, please contact the USGTF National Office at info@usgtf.com. During the free webinar, you will be given information on how to sign up for the remaining courses. Please note that there is no obligation to sign up for the remaining courses after you attend the free webinar, but it is highly recommended for today's teaching and coaching professionals.