Dominant Tendencies Under Pressure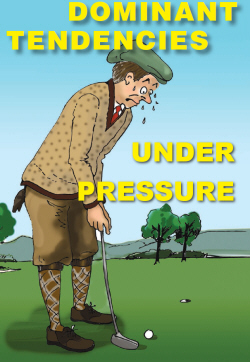 The year was 1989, and Tom Kite was fl ying high. He had two victories and five more top-10 finishes coming into the US Open, and was among the pre-tournament favorites.
For three rounds, he did not disappoint. He took the lead at -5 going into the last round, with a onestroke margin over 1987 champion Scott Simpson and three strokes over defending champion Curtis Strange. Kite was playing solidly and in command of his game, and it certainly looked like he was going to capture his fi rst major.
Then Sunday came, and disaster struck. Kite skied to a 78 and finished ninth, and Strange became the first repeat winner of the US Open since Ben Hogan. It's easy to say Kite choked, but is that what really happened?
To answer that question, we first must know some background. Kite was still in the process of changing his swing, and prior to the Open it was serving him well. On Sunday, a number of observers noted that Kite's swing reverted back to its pre-swing-change form. Kite later admitted he got stuck between his old swing and his new swing, and he could not recover.
Dr. Gregg Steinberg, USGTF sport psychologist, says that under pressure a player will revert to his dominant tendencies. He says this can happen when a player undergoing a swing change has not yet committed the change to the subconscious mind.
This is what likely happened with Kite. Earlier in the year pressure was no problem, since he was already a Tour winner on a number of occasions and was comfortable in those situations.
But, Sunday of a major championship, when you've never won one, is a different animal. Undoubtedly, Kite felt more pressure that day than on the Sundays of his previous two wins that year. His swing changes held up in winning twice in 1989 because the pressure wasn't enough to make him lose the feel of his new swing. Come US Open Sunday, Kite realized he could achieve a lifelong dream and something he had yet to accomplish. The fact that he was 39 years old and closer to the finish of his regular Tour career than the start may have also played a factor in his collapse. But again, is this choking?
No. Choking happens when a player has his physical habits committed to the subconscious mind, when there is no physical reason to not play your best. Although Kite most assuredly was not at his mental best during the final round, he had another big factor working against him – he still had to think about his swing consciously. Instead of focusing on his final round meltdown, critics should have marveled at how well Kite was able to play in 1989 and for the fi rst three rounds of the US Open while in the midst of a swing change.
Kite was able to recover from his disastrous round that day. He won another tournament later in the year and was named 1989 Player of the Year. And in 1992, when thinking about his swing was no longer an issue, Kite finally captured his elusive US Open title at Pebble Beach.
The lesson we can all learn from Kite's experience is that improving our swing mechanics doesn't mean automatic trouble-free improvement in our golf games. We as teachers know this, but our students often get frustrated by the plateaus, and even setbacks, that they experience while changing their swings. This can lead to them questioning whether they are truly on the right track.
Let them know beforehand that there will be, at the very least, plateaus, and often setbacks, while they're committing their new swings to their subconscious minds. A student who accepts this is more likely to trust what the teacher is saying. A student who does not accept this will more often than not abandoned the changes and revert back to old mechanics.
Use the example of Tom Kite. He could have abandoned what he was working on and gone back to his old swing, but he didn't, and it wasn't long after that he saw the rewards for trusting what he was doing.