Breaking Barriers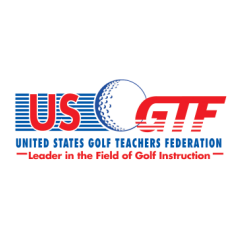 For those of you who are old enough to remember, or those of you who know your sports history, think back to the days of England's Roger Bannister. In 1954, he became the first to break the four-minute mile barrier, a feat thought impossible at the time. Just 46 days later, John Landy of Australia beat Bannister's time by a full two seconds. It wasn't long before a flood of runners broke the once "unbreakable" mark.
Prior to the USGTF's formation in 1989, there was no organization certifying professionals solely on the basis of teaching golf. Such practice was common in sports like tennis and skiing, but golf was different. Before 1989, receiving some sort of certification as a golf professional required long hours working in a pro shop. This didn't have much to do with teaching the game, but that's the way it was.
Many people thought that the concept of the USGTF would not work, and that golf was too set in its ways for a new paradigm in certifying professionals to be successful. Like the fourminute mile barrier, this was a barrier that those associated with the USGTF in 1989 were eager to test.
Twelve candidates attended the very first certification course in Lehigh Acres, Florida. That was a good start. The next certification class more than doubled in size, and soon it was routine to have over 50 candidates at each quarterly certification course. Today, classes are held several times a month all over the country, and USGTF professionals can be found in all facets of the golf business.
Suppose Roger Bannister had said, "You know, they're right. The four-minute mile is impossible. I might as well stop training." The four-minute barrier would have been broken, but it wouldn't have been broken by Bannister.
Had those associated with the USGTF in 1989 said, "This will never work," would another organization have stepped in? This is questionable, because golf is such a conservative sport by nature. More than likely, had the USGTF not been formed, teaching professionals seeking certification would still be required to work three years in a pro shop.
The USGTF could not have been successful, though, without the thousands of members who had to break barriers of their own. Many received their certification and returned home, where golf courses and driving ranges had never heard of the USGTA (our former name). They had to convince the owners and managers of these facilities that, not only were they capable of giving competent lessons, they would positively impact the bottom line of the facility. Just like today, because so many of these early members came from strong business backgrounds, they were able to bring fresh ideas and an increase in clientele to the facilities. It wasn't before long that credentials from the USGTF gained widespread respect in the golf business.
USGTF members today do not have to face unfamiliarity with our organization. Facility owners know that most USGTF graduates possess a strong business acumen which can only help the facility's image, bottom line, and teaching programs.
Prior to 1997, there was no worldwide competition for golf teaching professionals. Yet another barrier was broken, this time by the World Golf Teachers Federation. Amazingly, to this day there are no other international competitions for golf teaching professionals.
WGTF members everywhere continue to break barriers. Perhaps a facility had previously only hired professionals from another organization, or perhaps the members were told that a teaching program at a particular place couldn't be successful because "no one has been able to make it work before."
If you find someone telling you "it can't be done," think back to Roger Bannister and the founding of the USGTF. Someone will break that barrier, so it might as well be you.