Blast from the Past
The following picture was taken in Petaluma, California, in September 1994 at Adobe Creek Golf Club during a USGTF certifi cation course. Both the certification staff and members of the professional staff at Adobe Creek posed for the picture. Unfortunately, the identities of two Adobe Creek staff members have been lost through the passage of time.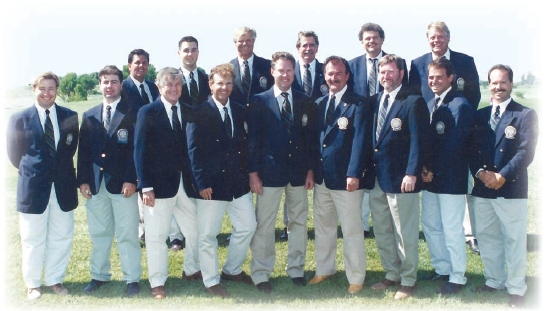 Front row, from left to right: Dana Banke, Adobe Creek head professional; Mark Harman, USGTF national course director; Mike Mallon, USGTF examiner; Dr. Gregg Steinberg, USGTF examiner; unknown; Paul Dionne, USGTF examiner; Bruce Harrison, USGTF examiner; David Vaught, USGTF examiner; and Mark Umphreyville, USGTF examiner.
Back row, from left to right: Miguel Rojas, Adobe Creek assistant professional; unknown; Logan Sanders, Adobe Creek head teaching professional; Bob Wyatt, USGTF national coordinator; Geoff Bryant, USGTF president; and Ken Butler, USGTF examiner.
All of the Adobe Creek professional staff except for Dana Banke went through the certifi cation process that week. A sad occurrence happened just two weeks after this picture was taken, as Miguel Rojas was killed in an automobile accident. Logan Sanders, a loyal USGTF member for many years after this picture was taken, died several years ago due to the after-effects of a stroke. Other than Mike Mallon, Paul Dionne, and Bruce Harrison, who are all retired, every other USGTF staff member in this picture is still involved today with the USGTF in some capacity – a testament to the strength of our organization.