Billy Casper: A Man of Faith, Family, and Golf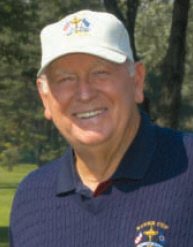 The year is 1970 and the "Big Three" of Jack Nicklaus, Arnold Palmer, and Gary Player are at their peak, with a newcomer named Lee Trevino threatening to crash the party. Which one of them won more PGA Tour events the prior seven seasons than anyone?
The answer would be "none of the above." No, that accomplishment belonged to a man Golf Channel named as the most underrated player in history. He would be William Earl "Billy" Casper, Jr., winner of 27 events from 1964-1970. Although the others might have had the greater media attention, Casper's game was second to none. Not only did he win more than anyone for almost a decade, he won the 1970 Masters in addition to his two US Open titles in 1959 and 1966. His 51 tour victories rank seventh all-time.
The list of Casper golf accomplishments is a long one, and perhaps unknown to a modern generation. He played on eight Ryder Cup teams (and still has the most points recorded by an American), won the Vardon Trophy for lowest stroke average five times, and was twice both the leading money winner and player of the year. He is also widely considered as one of the greatest putters of all time.
Not only was Casper one of the greatest golfers of all time, his charitable streak ranks very high, as well. His charity, Billy's Kids, raises money for a variety of good causes for children in the San Diego area, including the Boys and Girls Clubs of San Diego and Junior Achievement, among others.
Casper was born June 24, 1931, in San Diego, California. Derided as a child for being overweight, Casper decided that athletics were a way for him to become accepted. He soon could outrun every kid in his class.
Although he already played the game, he turned to golf more seriously at age 11 after landing a job caddying at San Diego Country Club. As a junior golfer, he twice reached the semi-finals of the National Juniors. He briefly attended the University of Notre Dame in 1950, then he entered the Navy, serving until 1955. He also played on the Navy golf team. While still an amateur, Casper won the San Diego County Amateur and also the San Diego County Open.

Casper turned professional in 1954, a year before leaving the Navy, again scoring a victory in the San Diego County Open. It didn't take him long to notch his first PGA Tour victory, a two-stroke win over the legendary three-time Masters champion Jimmy Demaret in the Labatt Open. This started a 16-year streak in which he won at least one tournament per year.
His first close call in a major championship occurred at the 1958 PGA Championship, the first to be played at stroke play, where he finished second to Dow Finsterwald. In 1959 he broke through, winning the US Open at Winged Foot in New York, a victory that Casper said changed his life.
In one of the most famous examples of course management in history, Casper didn't even try to hit the par-3 third green on any of the tournament days. Instead, he laid up short of the green, chipped up and one-putted every time.
By 1966, Casper was already a prolific winner on tour as he entered that year's US Open at Olympic Club in San Francisco. Palmer was still considered the king of golf by most golf fans, and Nicklaus was considered the top player. After 63 holes, it looked as if Palmer was going to cruise to his second US Open title, holding a 7-stroke lead over Casper and a 9-stroke lead over Nicklaus. In fact, Casper remarked to Palmer that he would have to play great just to finish second, to which Palmer assured him he would.
What happened the final nine holes is considered the greatest collapse in major championship history, although that designation is unfair to Casper, who played great golf. The "collapse" started on #10 with Palmer thinking more about breaking Ben Hogan's 72-hole US Open scoring record than winning the championship. Palmer bogeyed the hole while Casper parred, and both parred #11 and birdied #12. So, it appeared Palmer had righted the ship as he took a 6-shot lead into the 13th, and even as Palmer bogeyed the 14th he still maintained a 5-shot lead.
Except…Casper had other ideas. He birdied the short par-3 15th while Palmer bogeyed, cutting the lead to three. It was at this point that Casper believed he now had a realistic chance of catching Palmer. The long par-5 16th saw Palmer duck-hook his drive into the trees, leading to another bogey, while Casper birdied again. The lead was now down to one, and the championship was very much in doubt.
Palmer bogeyed again on the 17th, and both were now tied heading into 18. Amazingly, Casper almost won the championship outright here, but Palmer somehow made a 4-foot par putt to send the tournament into a Monday playoff. Predictably, Palmer was finished, losing the playoff 69-73. Casper had his second major championship.
While that Open is oft-remembered for Palmer blowing a 7-shot lead on the final nine, what gets lost in the shuffle is that Casper came home in a blazing 32. Anything more and Palmer still would have captured the title.
That playoff win only further cemented Casper's reputation as a tough competitor. From late 1960 to early 1964, eight of his nine victories during that span were with a one-stroke margin, a measure of mental toughness that is nothing short of remarkable. Nicklaus mentioned that he feared very few competitors, but one he always kept an eye on was Casper.
Casper's final major championship victory occurred in the 1970 Masters, but the genesis for that title goes back to 1957, his first year playing there. "It bit me right off the bat," remarked Casper.
Tied with lifelong friend and fellow San Diegan Gene Littler after 72 holes, a Monday playoff was held to determine the winner. It was to be the last 18-hole playoff ever held at Augusta National. Again, showing the mettle he displayed in his 1966 US Open playoff win against Palmer, Casper played fine golf, shooting 69 to Littler's 74. By now, Casper was firmly considered one of the best, if not the best, players in the game, right there with Nicklaus.
Casper remarked to Golf Teaching Pro that one of the traits that led to his many victories was his belief that he could beat anyone in close and playoff situations. His numerous one-stroke and playoff victories attest to that.
Casper went on to win six more times, with his last victory on the PGA Tour in 1975. As with many players, the Senior Tour (now Champions Tour) gave him a new lease on competitive life, and he recorded nine victories there, with two majors, including the 1983 US Senior Open.
A biography of Casper would be incomplete without mentioning the most important influences in his life – family and his faith. He played, not mainly for glory or acclaim, but for his family, to provide for them. He and his wife Shirley met at a football game in high school and have been married for 59 years. They have 11 children, of whom six are adopted. This importance of family can be found in Casper's charity, as he has said that our youth is our most precious commodity. Both Casper and Shirley came from divorced homes, and their childhood experiences led them to wanting many children and helping other children out in any way that they could. Casper is also a member of The Church of Jesus Christ of Latter Day Saints, and his Mormon faith is also central in his life.
Casper's sense of family can also be found in his relationship with the late King Hassan II of Morocco, whom he met in the late 1960s. Casper traveled there frequently to meet with the king, and the Hassan II Trophy tournament played today is a direct result of Casper's influence.
Today, Casper resides in San Diego, but is far from retired. He still oversees the operation of his golf course management company, Billy Casper Golf. He works on several cruises each year, providing instruction and playing golf with the guests. Casper said, "I enjoy people and I enjoy helping people." He still finds time to play competitive golf as an annual participant in the Legends of Golf on the Champions Tour.
Some of his children, including USGTF Level III member Byron, are involved in golf. Casper's golf legacy, while underappreciated by some, is certainly secure, but perhaps more importantly, so is his legacy as a true family man.