Almost Heaven… West Virginia and Hickory Golf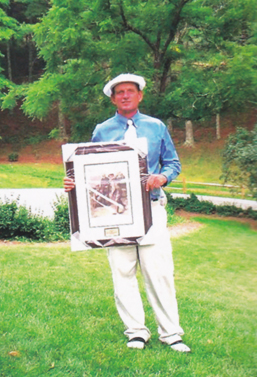 "And the champion golfer for the year is Tiger Woods." That's what was said at the completion of this year's Open
Championship at St. Andrews. The wordswere repeated again on August 6th, only the name Mike Stevens was inserted at the appropriate time. It was the closing ceremony of the eighth National Hickory Championship at Oakhurst Links in White Sulphur Springs, West Virginia. Playing in the day's final pairing, I and five time champion Randy Jensen of Omaha, came to the final hole all even. In the end a mere twelve inches, a single foot, produced the most dramatic finish in NHC history. That's how far Jensen missed the fairway, but at Oakhurst, missing the fairway means getting your caddy and 10 others just to find the ball. Playing conservatively, I immediately drove into a fairway bunker and with a mighty blast sent my approach into the crowd beyond the hilltop green. A deft pitch however left me three feet from the hole. Jensen meanwhile took a mighty swipe only to move his ball two inches and two more Bunyanesque swings left him short of the green. His pitch ran ten feet past and just like that the crown passed from his hands. After seven tries, the NHC trophy bears my name for all time.
The story of Oakhurst Links would have been lost if not for a golfing legend and a pretty fair Virginia amateur. The original land which was called Oakhurst was purchased by Russell Montague, a Bostonian, in 1880. Also dwelling in the area were some Scottish immigrants, George Grant and the brothers MacLeod, Alexander and Roderick. They became friends and often gathered at Montague's home in the evenings. Sometime in 1880, Grant's Cousin Lionel Torin, an avid golfer came for a visit. While sitting with the group one evening, he commented on how suited Montague's lower property was for a golf course. Over the next few years, they laid out a nine hole course and established a golfing club for themselves, the first of its kind in the nation. They played regularly for the next decade and then abruptly stopped. Records are sketchy, but it appears that the group just kind of drifted apart. Although the property remained in the family, the course was abandoned and nearly forgotten.
In 1938 Sam Snead was invited up to Oakhurst to visit the shop of Fraser Coron, Montague's club maker and 84 at the time. While there Snead hit a few balls with hickory clubs across the old fairways. He forgot about the meeting until 1959. One of Snead's good friends was Lewis Keller an excellent golfer who got to know Sam during his visits to the Greenbrier resort about 2 miles from the Oakhurst property. Keller was looking for a summer house in the area and Snead told him of Oakhurst and remembered his visit to the property. Keller's interest peaked when Snead told him a golf course used to exist on the property. He and his wife drove out and as they drove on to the property, they were greeted by a tattered white sign that read, "Oakhurst Links, Home of the first organized golf course in America, Established in 1884, Russell Montague, Owner." Keller bought the property from Cary Montague that very day.
Mr. Keller acquired the property to raise and breed horses, which he did for a couple of decades. Then one day he received an offer for his entire stock of horses and he accepted. His attention then turned to determining if he could restore the golf course. He contacted architect Bob Cupp and they unearthed the teeing areas and greens. Painstakingly over the next few years they restored the course to its original condition and inaugurated the return of Oakhurst on October 20, 1994 by having Sam Snead hit the first tee shot with a hickory shafted club made by Karsten Solheim. America's first golf club was back in operation.
In 1998, Pete Georgiady, a golf historian asked Mr. Keller for permission to use his course for the first National Hickory Championship. Keller was gracious enough to oblige and the inaugural event drew 42 contestants including yours truly. I finished second and fell in love with Oakhurst and hickory golf. I have been back ever since and will continue my annual pilgrimage until I can't climb the hills any longer. Oakhurst is truly a special place, a small oasis where time stood still. Walking the fairways with my five artifacts from a distant past chasing a gutta percha ball that barely goes 150 yards is a peaceful bliss that fulfills my spirit. It reminds me of my youth and summer evenings playing golf with my buddies and forging friendships that last a lifetime. Of making new friendships along a journey that is uniquely the game of golf, the greatest game ever. Each year I go to Oakhurst for a few days, but I could stay forever. As I drove off back to the future, I could swear I saw a lone figure in the car mirror tipping his cap to the new Champion golfer on his way home. I looked again but only saw one of the many sheep that roam the property grazing quietly by the first green, and then the week was simply a memory. A glorious one at that!