ADDING SPICE to Your Lessons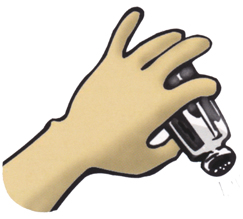 The tee sheet at the Blackhawk Golf Club in Edmonton, Alberta seldom has blank spaces on it. Designed by an unsung hero in the
world of golf course architecture, Rod Whitman (he's worked with Pete Dye, Coore & Crenshaw & more), Blackhawk is a wonderful layout with plenty of pizzazz. The square-shaped retro tees, the deep, dramatic bunkering, and the gorgeous contouring yield the type of experience that people want over and over again. And, in a golf business that's being pushed and challenged on many fronts, our courses, our products – and our experiences on the lesson tee – need something that sets them apart. They need some spice.
For many golf instructors, deviating from the basic plan – greet the student, chat for two minutes, teach for twenty-five minutes, offer a drill, & say goodbye – is a scary proposition. It's much less stressful going through the motions and doing it like it's always been done. The problem, of course, is that sometimes doing it like it's always been done might not provide your students with enough reasons to want to come back. And in many areas there are plenty of options for students who want to get the tastiest lessons available.
So then, the obvious question. Just how do you spice up a golf lesson? Interestingly, it may be as simple as lightening up a bit and letting your true character come out, or as complex as devising an extensive "skill test" for your students. Thanks to the various talents and interests we all posses, there are many possible answers. But keep in mind, you may have to think "outside the box" to find the right kind of spice for your lessons. Here are some examples that I like.
1. Take a two-minute 'treat' break during your lesson – A fellow instructor I know says he does this on a regular basis. If he knows it's going to be a hot day he'll bring a cooler filled with treats to the lesson tee. Some days it's ice cream sandwiches and other days it's iced tea. Whatever the treat, students – as well as teachers – can get uncomfortable in the heat and benefit from a short break in the action.
2. Photograph your student – the old-fashioned way – As a part-time photographer, I enjoy the challenge of taking great pictures. Students are used to viewing and receiving the traditional video tape or computer files of their swings. However, providing them with a creative "still" shot of them on the lesson tee – preferably with you in the photo as well – can make for a nice keepsake. Sometimes, if I'm teaching late in the evening, I've managed to capture some interesting silhouettes of my students on the tee. Framing the picture can be a great gift item and a great form of advertising, as the picture will certainly get the attention of visitors in their home.
3. Learn and perform a trick shot for your students – There aren't too many things that get avid golfers more excited than witnessing amazing golf shots – and people remember incredible shots. If you've got the talent to pull something off (and many of you do), then perhaps you could start your lesson with a one- minute "act" that will get your students into it. Perhapstheycould even assist with the shot. From the knees, off the pop can, with an inverted clubface, out of the air, you name it, all it takes is practice. Regardless if you pull it off or not, it can be a great way to have some fun – something that's often lacking in a lesson.
4. End the lesson with a contest – A couple of years ago an academy that's in my neck of the woods got a lot of people talking when they decided to have a summer-long challenge for students. After drumming up a local business to sponsor the contest, they set up a kids swimming pool a hundred yards out in the range. After every lesson every student had three chances to try and knock one into the pool. The sponsor got some great exposure and gift certificates to the pro shop were awarded to anyone who "made a splash."
5. If you have the connections, ask a local tour player or celebrity to make an appearance on the range – Many golf clubs and driving ranges are second homes to top-ranked players and local celebrities. If you happen to know a "personality" personally, don't be afraid to ask him/her to drop by and see you – and your students – at the range some time. Your students will love being introduced to a VIP. It's also good PR for "the famous one." Perhaps this person could spare a minute or two to offer some words of advice to your student. Regardless of the duration, your student will certainly remember the occasion.
6. Show television highlights from professional players that help you demonstrate your points – The first instructor that I ever worked under always brought his students into the "TV Room" after a lesson. Together they would go over the tape of their swings and he would offer his suggestions. I remember he taped almost every golf tournament and would collect his favorite highlights to pass on to his students. Some days he would show a top-ranked player's pre-shot routine and other days he would show the best players hitting bunker shots. Whatever the issue at hand, he would be able to drive the point home – and add some "spice" to the lesson – by showing an applicable example.
7. Set up a "skills test" – Something that many instructors incorporate into junior clinics and programs is a skills test. It's great fun and it really keeps the kids focussed. But it's something that can also be done with adults. Whether it's exclusively for the short game or also incorporates the long game, skills tests are enjoyable for the students and can be a great way to gauge progress. Setting up a points/rewards system makes it even zestier.
There are literally hundreds of ways that you can spice up your golf lessons. From telling colorful personal experiences to ending every lesson with a good golf joke, you're only limited by the boundaries of your imagination. Are your students getting bland, run-of-the-mill meals on the lesson tee? Or are they getting the fully seasoned, done-to-preparation top sirloins? It's your call. You're the cook.