A Teacher's Primer on the HISTORY OF THE THREE-WEDGES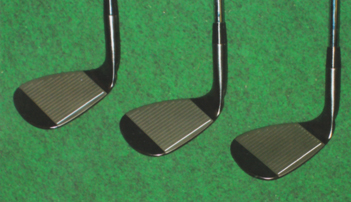 It wasn't too long ago that a "standard" set of golf clubs consisted of a driver, 3-wood, 5-wood, 2-through-9 irons, pitching wedge, sand wedge, and putter. Notice that, with this set, there is a strong emphasis on the long game.
In recent years, golf professionals have come to appreciate that most strokes in golf are taken within 100 yards of the hole. Therefore, set make-up has evolved to emphasize these shots – specifically, with the use of three wedges.
Prior to 1931, golfers basically had to make do with just one wedge, a pitching wedge commonly known as a "jigger." In 1931, Gene Sarazen invented the "second wedge," or sand wedge. He took a plane flight with billionaire Howard Hughes, where Hughes pointed out that an airplane's battle with drag was similar to that of a pitching wedge's battle with sand.
Sarazen went to his workshop and soldered metal onto the bottom of a pitching wedge, and tested it out until it could glide through sand properly without digging in or immediately bouncing out. Sarazen took the club to the 1932 British Open, where he kept it hidden from the Royal & Ancient officials, whom he feared would declare the club illegal before play. Sarazen went on to win the championship, the club remained legal, and the rest is history.
For several decades after Sarazen's invention, the standard pitching wedge maintained a loft of 48-50 degrees while the sand wedge checked in at 54-56 degrees. It wasn't until the 1980's that some people seriously began to think about making a wedge with even greater loft. It was a couple of people with scientific minds that led the charge.
Dave Pelz, one of today's leading short-game teachers and a former NASA physicist, realized that the traditional sand wedge with 54-56 degrees of loft, combined with a large amount of bounce on the bottom of the club, wasn't adequate to handle the increasing number of new courses being built with elevated and undulating greens. He began to advocate the use of 60 degree wedges without much bounce on the bottom, all the better to loft high pitch shots to tight pin positions.
Tom Kite, one of golf's great champions, was one of the first to go out on tour with this high-lofted wedge. It wasn't before long that many players followed Kite's lead, with some even employing wedges with lofts of 64 degrees.
The other innovator was Karsten Solheim, founder of Ping. Solheim, an engineer by trade, had already pioneered the concept of perimeter weighting in putters and irons. Realizing the benefits of manufacturing a high-lofted wedge, Solheim soon introduced an "L" wedge, which gave the modern lob wedge its name.
Today, wedges with just about every loft from 46-64 degrees can be found, although generally wedge lofts come in even numbers. Each manufacturer has a different take on what "the" standard loft is for each club, but the following scale can be used for general description purposes:
Pitching wedge (46-50 degrees)

Gap wedge (50-54 degrees)

Sand wedge (54-58 degrees)

Lob wedge (58-higher degrees)
While there may be four generally-accepted designations of wedges, it is uncommon to see players have all four in their bags. Most tour players employ a three-wedge system.
The gap wedge became a necessity for some players when industry pitching wedge lofts decreased. For many years, pitching wedge lofts were right around the 50-degree mark while sand wedge lofts held at 54-55. With this configuration there was no appreciable "gap" between the pitching wedge and sand wedge.
Today pitching wedge lofts of around 46 degrees are now common, which means there is an eight-degree gap between most pitching wedge and sand wedge lofts. Many players fill this gap with a gap wedge.
As of this writing, wedges with lofts greater than 60 degrees have not become widespread in their use, but, as we've seen in the evolution of the wedge game, don't count this development out.