A Heart-Warming Moment American Sign Language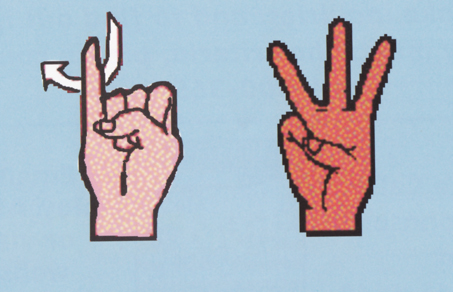 We USGTF teaching Professionals know golf is a marvelous, challenging game filled with many experiences. Those experiences can be good, not so good, and every once in a while, heartwarming (fuel for the human soul).
A heartwarming experience might be watching a man, paralyzed from the waist down in a wheelchair, tee off on the first hole and send it down the middle of the fairway. (Do you remember that thrill when that was first achieved?) I personally watched that occur while on the practice putting green waiting to tee off, and was filled with so much joy and happiness for him, the same joy and happiness we as golf instructors feel when one of our students executes flawlessly on a golf technique/tip provided in a lesson, on or off the course.
That courageous man got me to thinking about those who have the will and heart to want to learn and play the game, but cannot do so through "normal" means. Take for instance, a deaf person. Yes, officially they have a handicap, but if you have ever met a deaf person, their "can do" attitude is infectious. Kevin Hall, on the professional tour, is a living testimonial that a deaf person "can do." Other touring professionals, such as  Stuart Appleby and Robert Garrigus, who are hearing, are supporting this "can do" attitude, by recently providing golf instruction at a golf deaf camp in Ohio.
As a USGTF teaching professional, I have a passion to teach a game that I love. To be able to reach others who really want to learn and play this wonderful game, but cannot, offered me a challenge and a goal to direct my efforts to. American Sign Language (ASL) is a formal language and is used by the deaf. I focused my efforts on going back to a nearby community college, where I began the study of ASL.
To be honest, another passion has developed for the language and the "deaf" culture. Add that to my passion for teaching golf and a win-win situation with synergy is in "full swing." Challenges seem common in this great game of golf and certainly hold true for teaching it. But, to explore new turf, meet interesting new people, and expand on new and innovative teaching techniques seem all-encompassing in teaching golf to the deaf, while wearing a USGTF cap.
In today's world, it is not uncommon to come in contact with a deaf person, either somewhere in the family structure or in business/social life. Maybe you have an experience about golf and the deaf, either through playing or teaching, that you would like to share with the USGTF for a future newsletter or magazine article. Perhaps this article has stimulated an interest of how to go about expanding your teaching techniques to  deaf students. You are most welcome to send me an e-mail to golfingjack@msn.com.