A Father's Dream Becomes a Teacher's Challenge

Want to test the mettle of a friendship? Ask a favor that goes way beyond the comfort zone.
"Would you teach my autistic son to play golf?" Yeah, that should do it.
Too often I'd heard others tell me why it would be too difficult. Felt like all that was missing from those conversations was, "Here are some lovely parting gifts. Thanks for stopping by."
Not with Scotty.
Even though he told me he'd never taught anyone with autism, I knew that wasn't an obstacle, just something he wanted me to know.
"Sure," was the answer that flew out of his mouth.
Sure was anything but how I felt.
I've played golf since I was 13 but my dreams had long since moved on from winning a U.S. Open. I just wanted to be able to play a round with Matt, who was 12 at the time, and maybe, maybe through the grace of God, someday, way down the road, win a tournament together.
Not too much to ask. Just the same dream of every father who plays with their son. Only thing was, autism often brings with it coordination issues, and learning anything new often raised Matt's level of discomfort to the point where he'd avoid it.
But Scott had a vision, too.
Here I'm teaching 13 years before I even start with Matt. I have a really good clientele and business, I'm feeling really comfortable, and a lot of my students are doing really, really well. Now I meet Matt, and he forces me to change the way I'm teaching.
Matt humbled me as an instructor real fast. I realized I wasn't as good as I thought I was. I've only been teaching 12, 13 years. I'm still a pup. But I'm learning. I think that if I learn something new every day, then I'm learning as an instructor.
I had to find ways to get Matt to understand and to stay focused.
I really at that point realized I wasn't teaching him so much as he was teaching me. He was forcing me how to be a good instructor at the same time. It was a win-win.
There was a bond between Matt and Scotty that I didn't know about. Scotty fought a learning disability as a kid. Dyslexia.
Try being one of the biggest jocks in school and hiding a reading problem.
I couldn't make myself look stupid in front of a class. I had to learn to read a different way. Bigger words jumped constantly. So I learned to speed read and comprehend because if I read fast, the words couldn't move on me.
I would go off into deep daydreams where when I left the class, I was in "Scotty's World." That's what the guys in my band used to call it. I still suffer from it. I used to go into what I called trances.
I learned as a kid if I could just stay busy and refocus on something else, I would not get into them. I also knew you were only going to get me for five minutes, at…the… most.
For Matt, it was a blessing to have an instructor who knew what, to some degree, he was fighting.
I see Matt sometimes turn away from me and I see a little bit of myself. I used to know what I used to do in my head to get myself back, to snap out of it. I use a little bit of how I was as a kid.
Most times that was using his hand to interrupt Matt's stares and using it to guide his eyes back to the golf ball.
For a while, I was dumbfounded. It took a good year and a half for me to find a way. I would say things to Matt and it wasn't working. But he would see the hand, break up that stare and even acknowledge, "Okay, I'm ready," and go right back into it. Then I realized I was the same way. I used what I knew as a kid and how I dealt with it.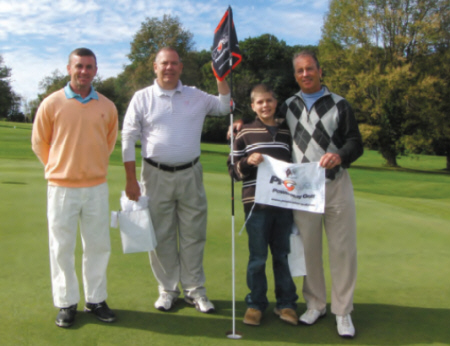 L to R: Corey McAlarney Head Golf Professional, Marty Myers, Matthew Myers, Scotty McAlarney Director of Golf, Scott Greens Golf Club / "A Swing for Life" golf academy
We turned segments of the swing into a game. When we teach our system it's impact, short shots, pocket-topocket, just to embrace the fact that, "Matt, the hands have to do this." And every time he'd get to a new level, and when he got it, I'd say, "You did it. You did it." Then we'd move to the next level. If I say let's go back to pocket-to-pocket and practice, he'd give me this mock, "Pffffft."
To him, it's that I don't think he's doing it correctly. He'll do it and wonder why I'm making him do it. I'm doing it to make sure we're doing our fundamentals first.
With Matt, I try to do a lot of visual stuff, but I'll look to his father for guidance because I know I might be messing up by having Matt next to my side when a mirroring technique works better.
A lot of times with a student, I will grab a club or body part, and Matt won't always want that. He'll let you know if you are getting too close. So, I'll say, "How about you show me?"
I'll flip it because there are times when I can't teach him what it should feel like. I can't teach a lot of that to Matt.
In the 28 months since our first lesson, I have never heard Matt say, "I don't want to do this today." In fact, I'm guilty of using it as leverage.
"Oh, you aren't going to clean your room? Then no golf lesson today." Works like a charm, even though Scotty will tell you one of his fears is that Matt will someday say the heck with golf.
I could see the gains he was having. I want every thing we do to go forward. We've learned to trust each other and there's a friendship involved when I teach that, everything I teach, I make it light. I don't want to make it a grind.
One of the biggest breakthroughs we had was when we went back to the hitting zone and I brought him the T-Golf, because he was having fun. All of a sudden he's banging balls and hearing the sounds come off the clubhead.
We stretched T-Golf to the limit. I use it to reintroduce that your body is not moving. If you do it wrong, you're going to realize it's all arms, hands, and shoulders. Matt loved it and it became such a game that when I'd say we were going to work on the hitting zone first with the T-Golf, he'd run right to it because he loves the sound and seeing the ball.
Now I'd say let's work on the big kahuna. To make it fun for Matt was the game within the swing.
Matt actually has better skills than a lot of kids or adults that I teach. No one can lag the club and be where he's at. I'll put his positions up against a lot of people's.
But, making it fun was always important. Because Matt used to just cast the club and tomahawk it into the ground, I'd tell him he was chopping broccoli, except I'd sing the song from Saturday Night Live with Dana Carvey, and Matt would laugh but he knew just what I meant. Just keep pulling.
We don't get into retaining angles, technical stuff, but that was a mistake I was making early. I had to really watch what I was saying. Matt didn't understand that.
I pray every day that I can be a better instructor today than I was yesterday. And, Matt's proven it. I said to my wife one time, "I wonder if God is answering that prayer?" Why did this person come into your life? Why did I meet Marty Myers years ago through golf and his work as a sportswriter? Did I meet Marty because I was supposed to meet Matt?
I thought that was the case when Matt and I won a memorial scholarship tournament this summer at Scotty's course. It took more than a few minutes for me to regain my composure once I knew we'd won. And, I wasn't alone.
I'm not supposed to have a favorite student, and you can condemn me or whatever, but there's no doubt when Matt walks through the door, I'm in a different and better mood, no matter what's happened earlier.
The last couple years, when I made Top 100, I knew I was getting close. But nobody cares about that around our area. You're just a guy in Scott Twp., a very rural area, giving lessons every day.
Later, it meant something to me because I felt Matt had taken me to that level. I can teach and I can continue to learn. Matt has forced me, challenged me to be that way. I often wonder who's teaching who.
Even though I feel as though I belong in that (Top 100) category, it doesn't mean I'm better than Jimmy Smith down the road; it just means I've found other ways to help someone else love the game of golf, become a good player, and I learned from him.
We're building Matt's swing, not necessarily a golf swing. If you look out on the tour, there's a Justin Leonard swing, a Sergio Garcia swing, a Jim Furyk swing. We're all different and we're all going to learn a different way. We're learning this is Matt's blueprint.
When I saw him on videotape doing the T-Golf, I see how he's starting to feel comfortable building his swing. We're at a point now that he's so comfortable with what he's doing swinging the club. To him, it's just an automatic motion. I don't think he's even thinking about what he's doing.
There are times right now if I feel a person isn't getting it, I'll call in what I call Matt-isms. Especially the focusing thing. I'll take my hand and bring it down like this and make my hand like a little prayer (palms together), which has turned into a neat little drill. Push the right hand which pushes the left hand forward. Do you have a prayer of getting to good impact?
I wouldn't know the answer to that, but as far as other prayers, plenty of mine already have been answered.
Editor's note: Marty Myers is a sports writer for The Scranton (Pennsylvania) Times-Tribune and a member of the Golf Writers Association of America. Scott McAlarney gives over 1,000 lessons per year to the top junior and adult amateurs in the greater northeast Pennsylvania region. He can be reached at aswingforlife@aol.com.