A Different Kind of Lesson

I became a certified Level III member in June 2003 in Ann Arbor, Michigan, under the direction of Bob Wyatt. The significance of my USGTF certification becomes more evident to me each season. I consider myself a lifetime student of golf. In an effort to grow my knowledge and contribute more, I began to study golf course architecture and the USGA Course Rating System. In 2005 I became a course rater for the USGA and Golf Association of Michigan. Rating courses gives me a glimpse into the mind of the course architect and his thought process in developing the land into a playing field which is both eye-pleasing and a fair test of ability for all skill levels.
A good teacher today is defined by how successful he is in not only improving player skills, but more importantly, how his teachings get more people interested in all the benefi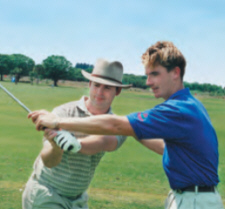 ts of the game. There are many ways to improve the experience for a student wanting to learn. Improvement isn't always about the swing.
I was invited to join a friend for nine holes at his home course. It's a well-manicured private club, with the majority of the membership consisting of middleaged players of all skill levels. As a 22-handicapper, my friend falls somewhere in the middle. His objective was to tap into my knowledge and solicit my input on ways to fi x his swing in hopes of improving his overall club standing. My intent was to understand his thought process as he maneuvered around this course he had played for several years.
We stood near the opening tee when he stated, "I hate this opening hole, but I love number two and three." Number one was a short, slightly downhill par- 4 measuring 343 yards with fairway bunkers right and the driving range (out of bounds) lining the left side. When I heard his dislike for the hole, I sensed it was an opportunity to help.
As we waited for the group ahead to tee off, we had time to talk. The practice putting green was close behind the first tee, and this made for a good gathering place for other members to gallery opening tee shots. A local high school kid stepped onto the tee when an elderly member on the practice green commented loud enough for most to hear, "This kid almost drove the green yesterday." As everyone paused to watch, I was certain the kid heard the comment as he put some extra muscle into it and duck-hooked it into the range.
That seemed to spark my playing partner's memory as he stated he always either hooked it into the range or drove into the fairway bunkers. So, here you have a hole where the architect's intention is to give the player a break by starting out the round with a short par-4, yet my 22-handicapper is looking at it like a nightmare.
We flip the tee for honors and I get the nod. When I pull a 3-hybrid out of my bag, the 22 says, "You can hit driver here. You could drive the green if you hit a good one." This, I believe, is one of the greatest opportunities to help high-handicappers improve: Helping them manage their game to be congruent with their ability while giving them insight into the architect's vision. I asked Mr. 22 how far it was to the fairway bunker on the right. He instantly knew the exact yardage. "215 yards," he replied.
I told him, "My plan is to pull a club where I cannot reach the bunkers, and then aim at the bunkers and swing away." His response was, "Everyone hits driver off the first tee. If you don't hit driver, you instantly become the focus of brutal remarks from the gallery." I explained, "A unique beauty in golf is everyone has their own game, and you need to fi nd yours and start playing it." I went on to say, "What would bother you more? Your buddies razzing you for not whaling on your driver, or that uncomfortable silence after you putt out for your eight on the opening hole?"
He agreed the latter had happened more times than him splitting the fairway on the first tee shot of the day. He had told me in a lesson once that his favorite iron was his 8-iron. So, I insisted he try a 5-wood from this tee today.
He aimed at the bunker and made a decent swing. The ball flew about 170 yards, but the downhill slope helped it roll out just short of the bunkers and the ball came to rest at 204 yards. He was okay with that, but still not quite convinced this plan was for him. He had 139 left to the middle. The green is protected by bunkers front left and back right, and when he pulled his 8-iron, I knew he was feeling good about this shot.
I provided another tip as he was checking yardage. I told him it was 155 yards to the back of the green, so that back bunker is 160. I also threw in that it was 125 yards to carry the front left bunker. He replied that his 8-iron was perfect. "Imagine that," I shouted, "your favorite iron!"
His 8-iron was indeed the perfect club. We were both on in regulation, and as we stood before our putts I caught him looking back up the fairway. I was sure he had a different perspective and excitement about this hole. Later, he told me about the time he hooked three consecutive tee shots into the range and made 11, and another time when he hit his best drive ever and cleared the bunkers only to then chunk three wedges for a 7.
I reassured him that today he most likely eliminated the possibility of those two episodes ever happening again. Most of the remainder of the round he was asking me what club to hit on every shot, and swing mechanics never came up. This was a win-win for both of us. For me, I got him thinking about his own game and the benefits of understanding how the course architect expected to challenge his ability. For Mr. 22, he realized he had been beating himself most days. His renewed excitement for playing his course was the beginning of his excitement for playing golf.
As we enjoyed a beverage on the clubhouse patio after the round, he wanted to know more about this course rating thing and how it tied in with his handicap. I explained how the rating team calculates players' hitting distances and architectural obstructions like fairway bunkers, trees, and water hazards. He was still locked in on the day's experience as he described the distances he hits some of the key clubs in his bag, and how knowing those distances will help him steer away from trouble on his home course. It was amazing to me that from memory he could recite distances to obstacles on many holes as we sat there. Yet, when he was out on the course, he would select a club that would bring all those obstacles into play.
As the conversation wrapped up, I asked him what happened to us working on his swing. He agreed we should wait on that for awhile.